Source: CNXSoft
http://www.cnx-software.com/2017/05/23/rak-wiscam-is-a-20-arduino-compatible-wifi-camera-linux-board-powered-by-nuvoton-n32905-arm9-processor/
A couple of weeks ago I wrote about Rakwireless' RAK CREATOR Pro development board based on Realtek Ameba RTL8711AM Wireless MCU, and part of their Wiskey family of development boards. Sub-family includes WisNode for IoT boards, WisAP for OpenWrt boards, WisPLC for PLC hardware, and WisCam for WiFi video camera boards. The company has recently introduced Wiscam RAK5281 Arduino compatible Linux board powered by a Nuvoton ARM9 MCU, and supporting a camera module or an SD card + USB module.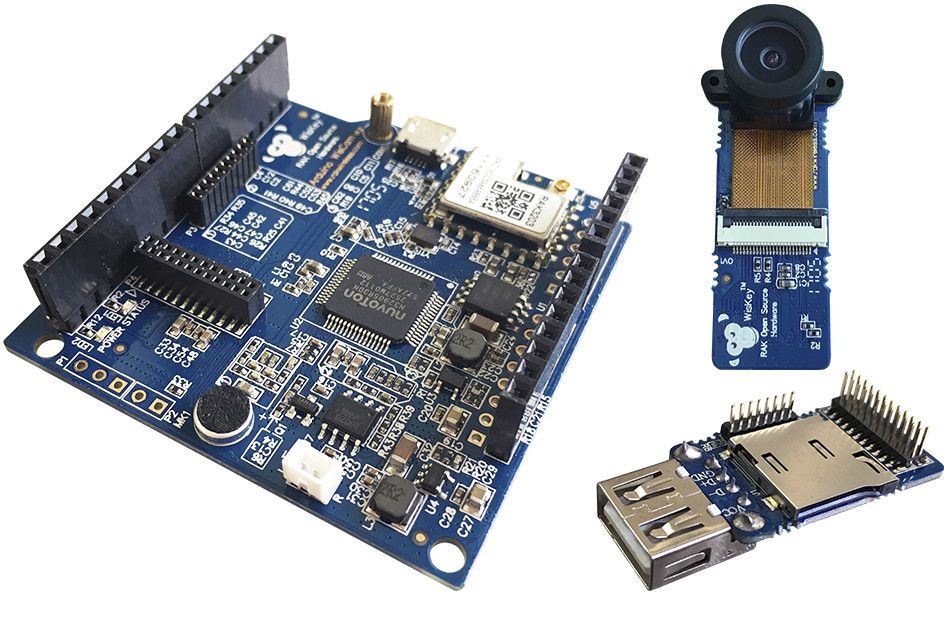 RAK WisCam specifications:
SoC – Nuvoton N32905R3DN ARM926EJ processor @ 200 MHz with 8KB internal SRAM, 16KB IBR internal booting ROM, 16Mbit x16 DDR2 memory
Storage – 128 MBit SPI flash, included sub-module adds micro SD card
Connectivity – 802.11 b/g/n WiFi via Realtek RTL8189FTV module
Camera via sub-module
648×488 pixel VGA CMOS Image Sensor (GC0308); 102° FOV
Video – QVGA (320×240) 30FPS, VGA(640×480) 30FPS, MJPEG encoding
Photo – JPEG, 16 bits/pixel – RGB565, 32bits/pixel – ARGB8888
Audio – 16-bit stereo DAC; built-in microphone, speaker header
USB – 1x micro USB port for power and programming, USB 2.0 port via sub-module
Expansion – Arduino UNO compatible headers with PWM, I2C, GPIO, ADC, UART, I2S, USB2.0 HS (High-Speed)
Power Supply – 5V via micro USB port
Dimensions – 55.61mm x 55.88mm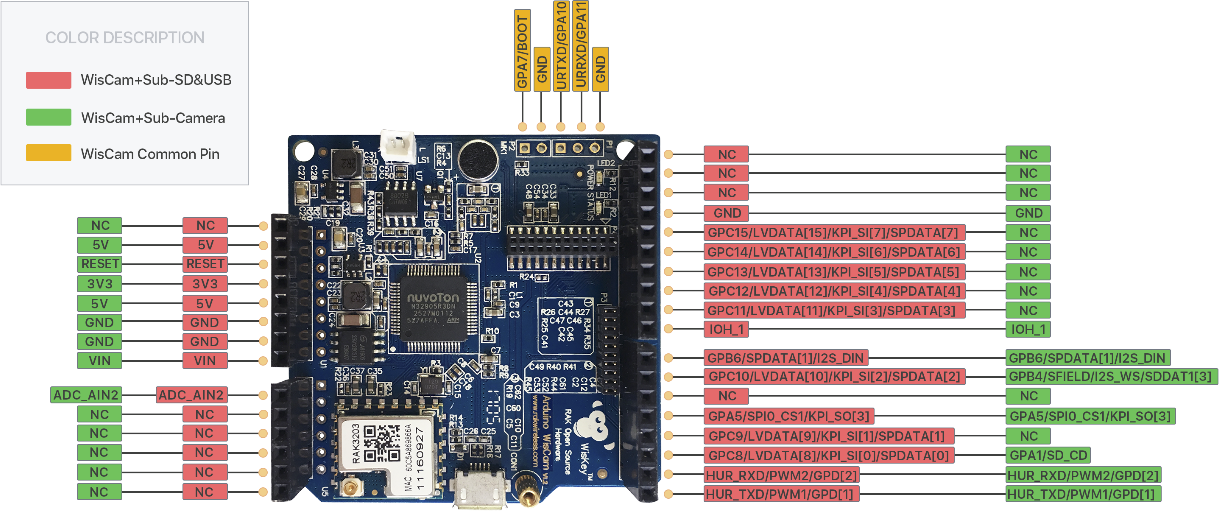 The board runs Linux, and support both USB UVC mode (like most webcam), and video streaming in Android, iOS, or Windows app using RTSP or Nabto P2P IoT Connectivity cloud server running on the board. Wiscam board appears to share most of the same components as Nuvoton NuWiCam development board, so software and apps for it may also be compatible. Hardware design files such as Altium schematics and PCB layout, as well as source code for board and mobile apps, and datasheets can be found on Github. For some reason, they shared some of the files in a compress archivve files in github, instead of using the revision control system. Another downside, but common to most ARM9 "IP camera" SoCs, is that the board runs an ancient Linux 2.6.35 kernel.
Some has already done a short video review with the board.
RAKwireless is a startup company, but their WiFi video camera solutions are also being used in products such as Waggle 3D printer remote controller. They seem to be quite responsive, and if you have questions or remarks, they'll certainly reply to your comments here or by emails.
RAK Wiscam board is sold on Aliexpress for $19.90 + shipping ($3.75 in my case)