Announcing a Major WisGateOS2 Update: A Leap Forward in Gateway Management for LoRaWAN® with WisGateOS2 2.2.0
Today, we're thrilled to unveil the highly anticipated major update to our flagship firmware, WisGateOS2 2.2.0. This release is not just a standard update; it brings transformative changes and improvements that set new standards in the world of LoRaWAN gateways. We encourage you to read carefully.
Dive Into New Horizons
Upgraded OpenWRT for Enhanced Security and Reliability
The heart of our upgrade lies in the OpenWRT update to version 2102, which fortifies system defenses and streamlines operations.
Security is paramount in the IoT landscape. This move not only ensures that the system remains secure but also enhances its overall reliability. OpenWRT is renowned for its flexibility and security, making it a vital component of the WisGateOS2 platform.
Open SDK Coming Soon
Take advantage of the forthcoming open SDK, which will enable you to customize and integrate the system more effectively, tailoring it to your specific needs.
The latest WisGateOS2 SDK will be available upon request for developers and solution providers, offering endless opportunities for customization and integration into new and existing systems.
The year's end will also see the availability of an Extension SDK, providing an easy and user-friendly method to add custom features and functionality (extensions) to your system.
Extensions
Digital Signature Verification - In our relentless pursuit of security, we've revamped our online extension with signature verification.
This means that all extensions for WisGateOS2 2.2.x are digitally signed, assuring the authenticity of the extensions you're using. This measure is essential for safeguarding your gateway against potential threats or malicious extensions. Only trusted source extensions will be available.
An approved extension gallery is now directly accessible in the Web UI; it offers customization in catalog form with auto-update. Only extensions compatible with your exact gateway model will be available for installation.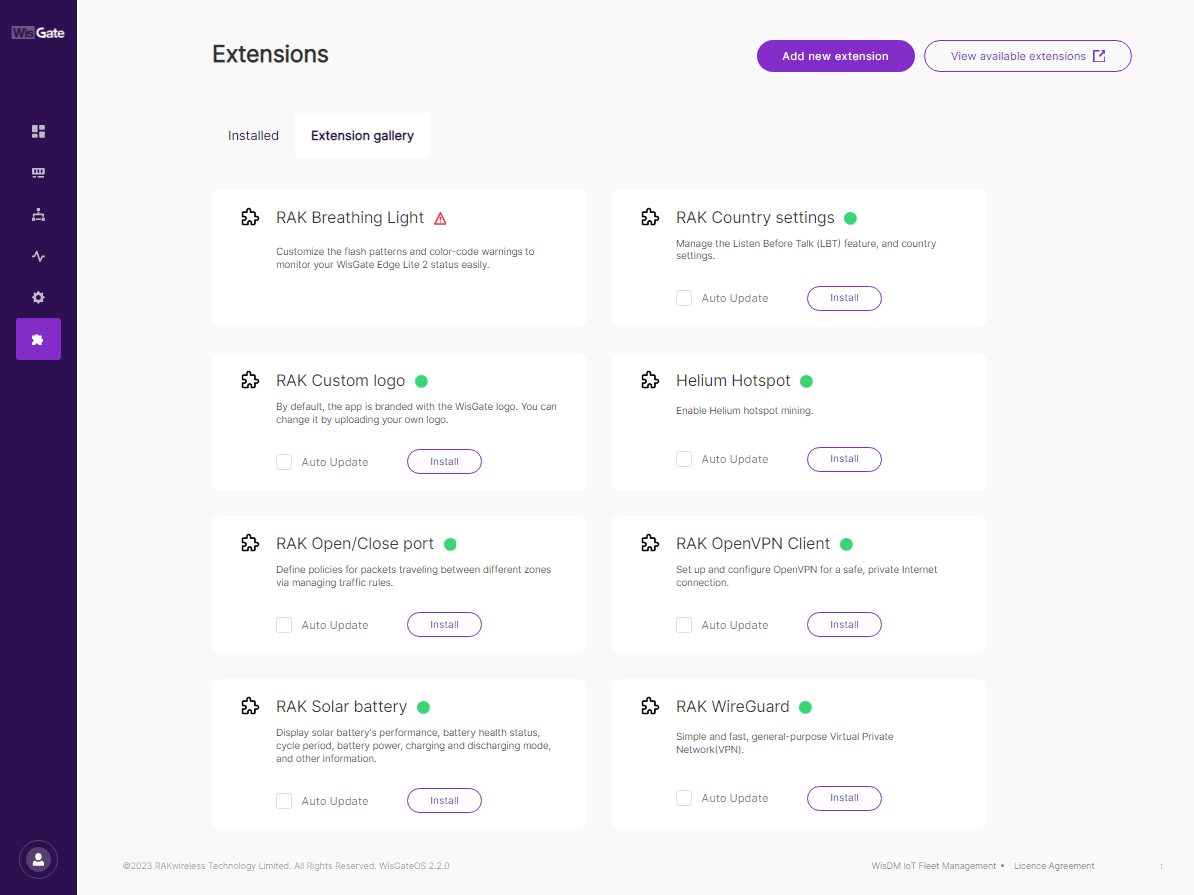 Chinese Language GUI Support
Embracing our global user base, we've incorporated support for the Chinese language into the graphical user interface (GUI).
This move caters to a broader user base and makes it easier for Chinese-speaking users to manage their gateways efficiently.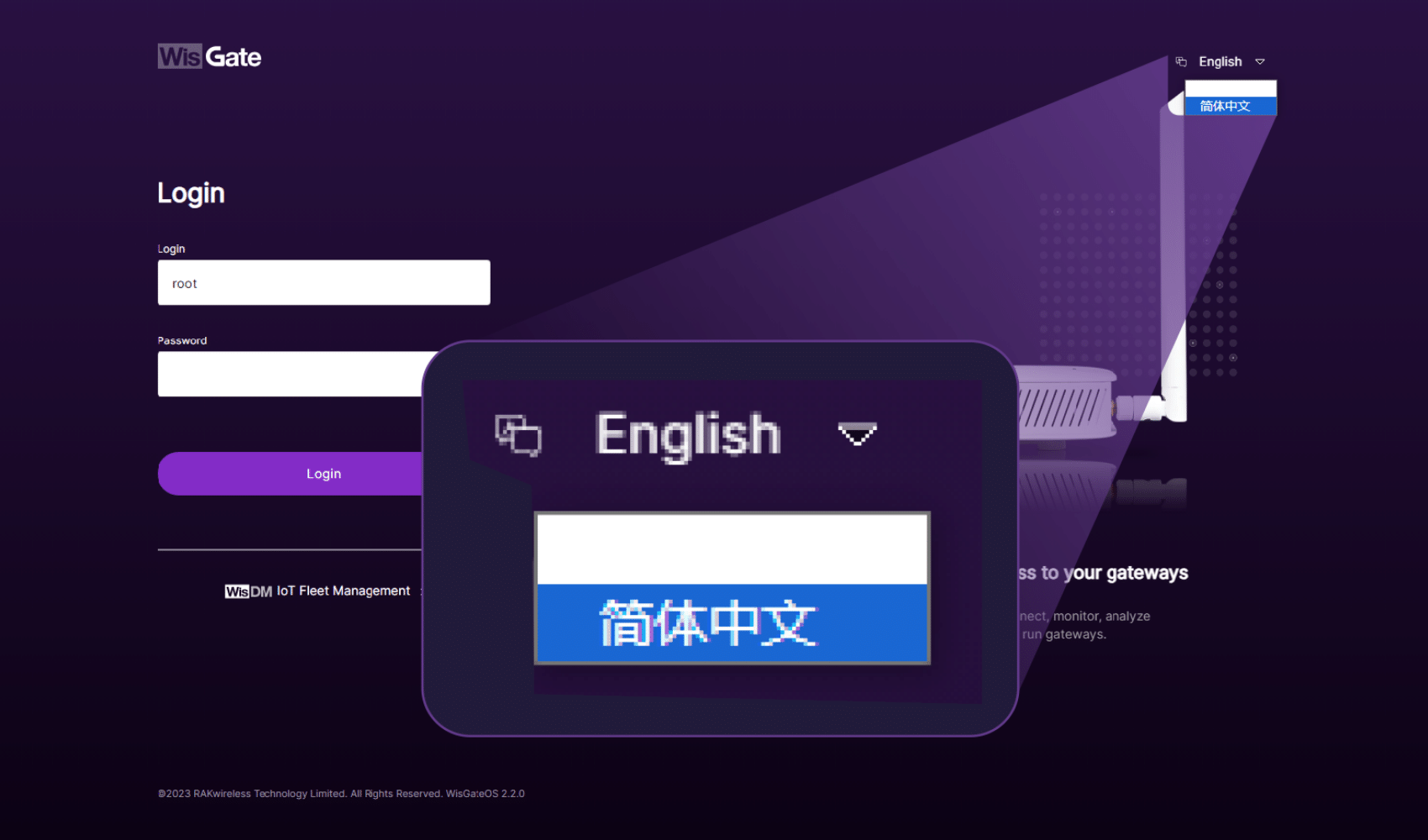 User-Friendly Enhancements
From displaying syslogs sequentially for downloads to supporting spaces in ESSID and TDOA in UI, we've fine-tuned user interactions for superior ease of use.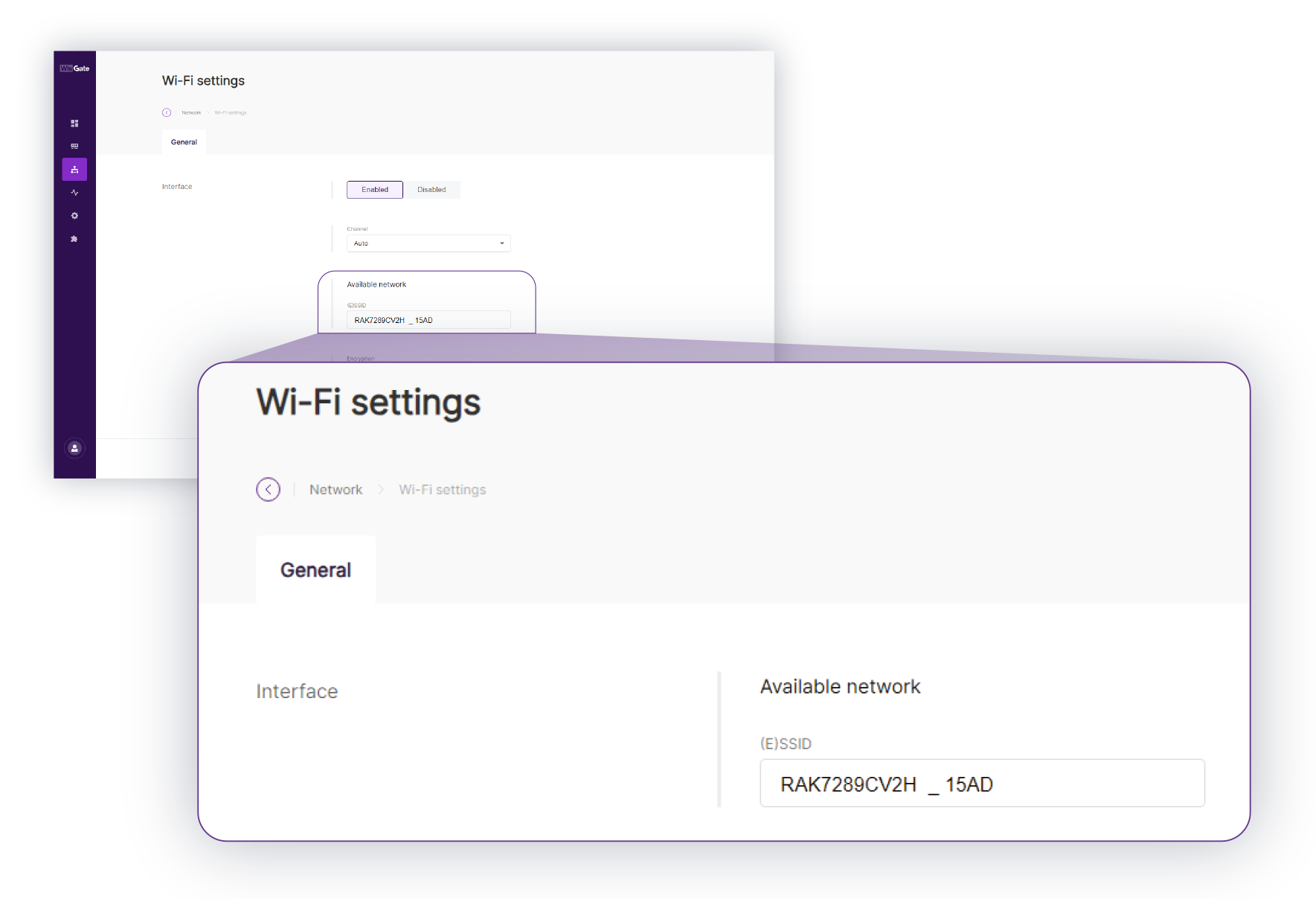 We have added fake GPS options next to the Fine timestamp (Time Difference of Arrival or TDOA) for simulating GPS in use cases where the gateway doesn't have actual GPS, or the service is unavailable.
TDOA is a valuable technique for geolocation in IoT applications. This update introduces TDOA support in the gateway user interface, empowering users with the ability to leverage this location-based service for their IoT deployments.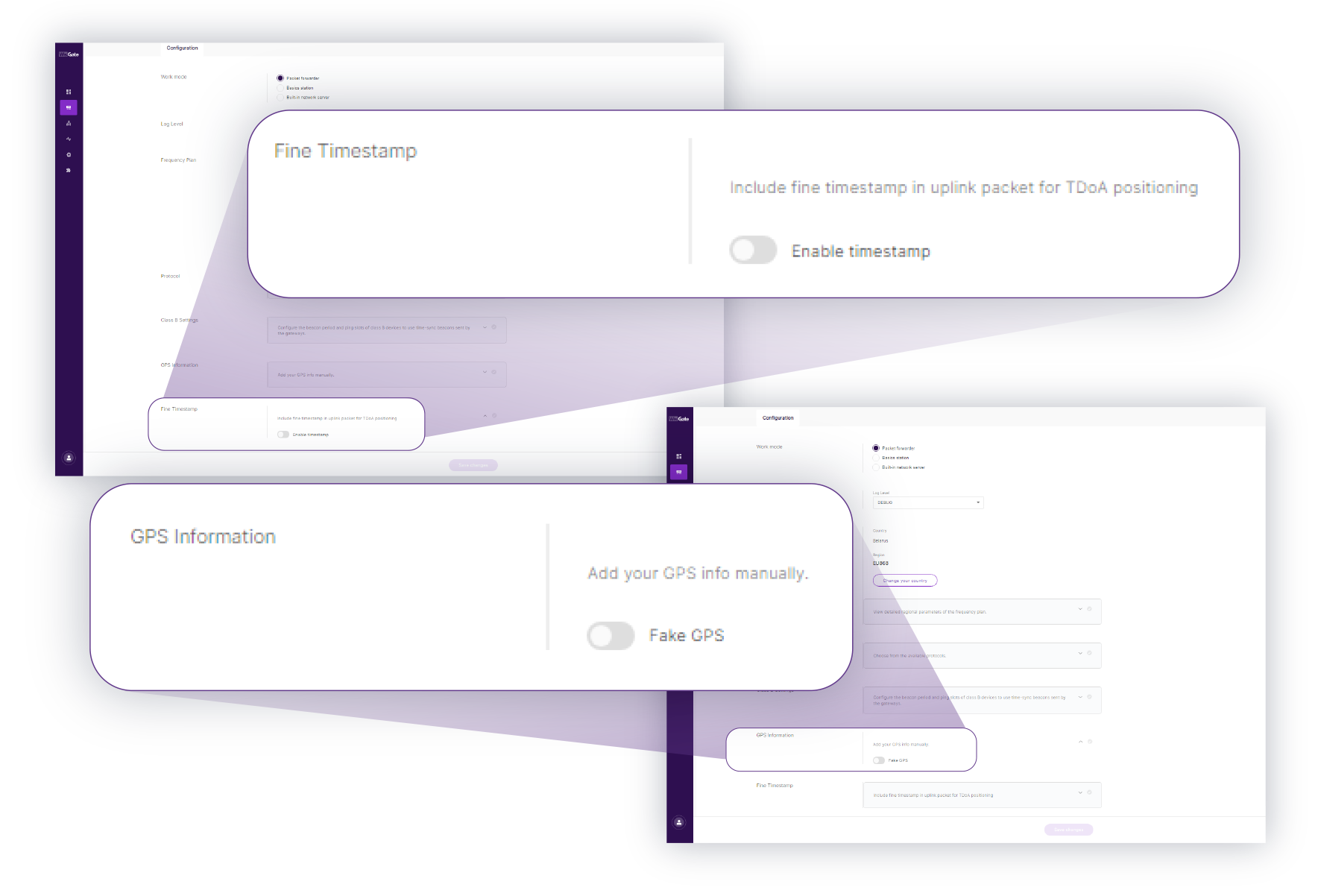 In response to user feedback, the WisGateOS2 Firmware 2.2.0 update provides a more convenient way to access and analyze system logs. Users can now view and download syslog entries in sequence directly from the gateway's user interface. This feature streamlines troubleshooting and simplifies the process of identifying and resolving issues.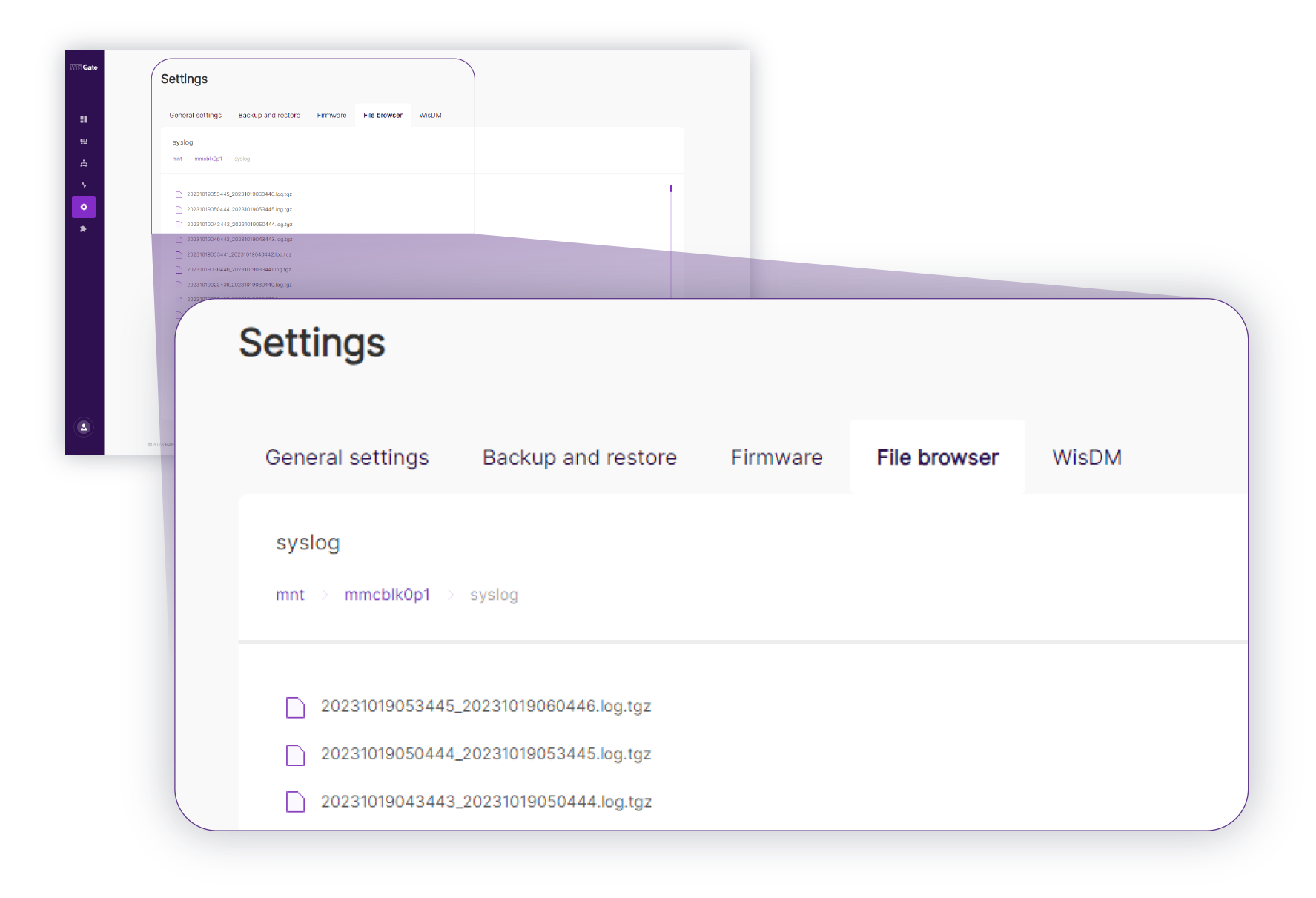 ChirpStack V4 Integration
The integration of ChirpStack V4 MQTT Bridge is a testament to our commitment to staying at the forefront of technology.
We support the implementation of the latest open-source LoRaWAN network server, so our products are up to date with the trends and services. This feature enhances interoperability and connectivity options for users, allowing them to seamlessly integrate their gateways with the latest ChirpStack-based networks.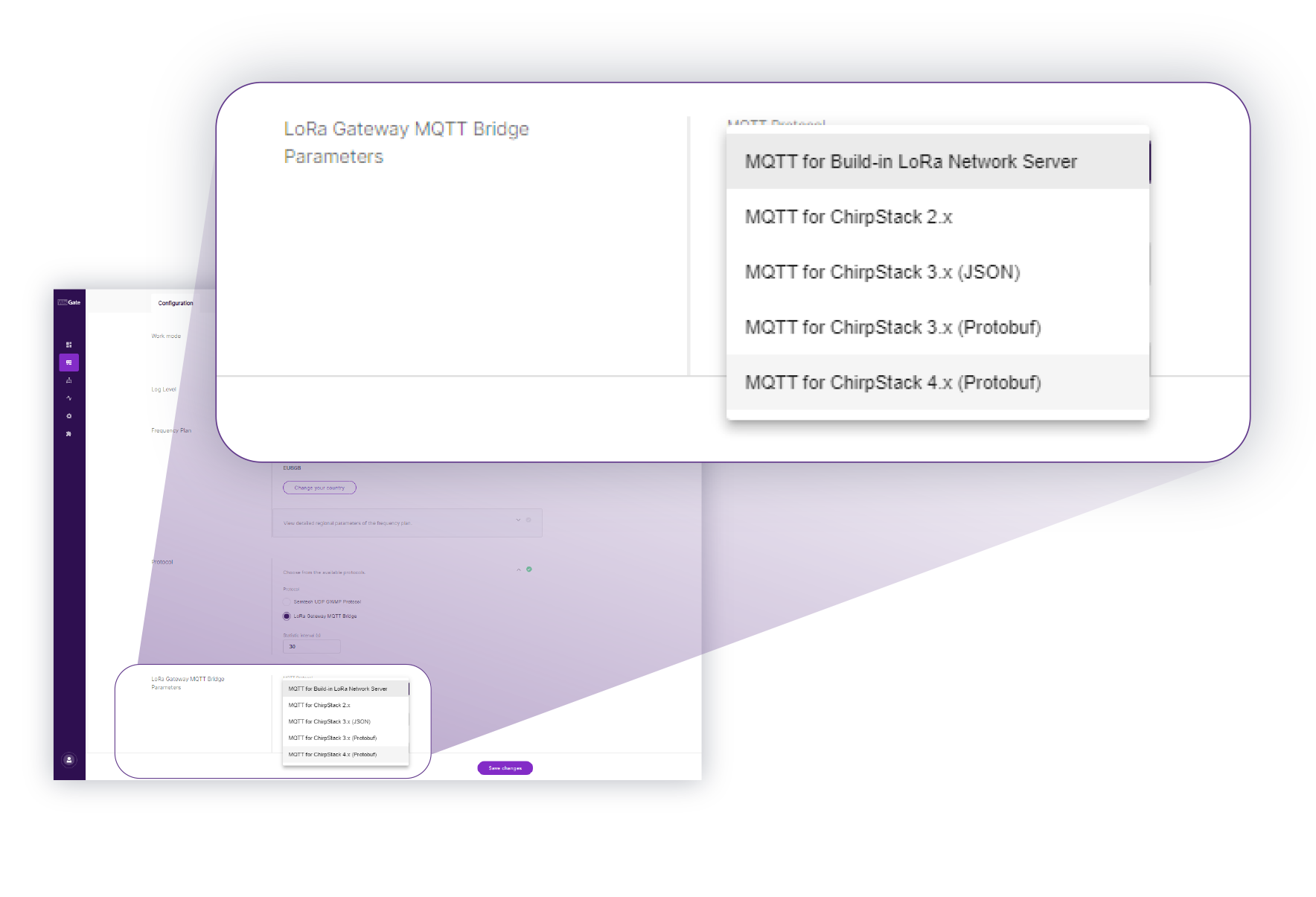 Bugs? What Bugs?
Our development team has worked tirelessly to eliminate lingering bugs. Whether it was the slow loading of the gateway overview page in the absence of a 4G module or nuances with frequency assignments, our latest version ensures a seamless and enhanced user experience. For specific information, you can check the official Release Note.
The new firmware is now available for download and also for utilization in WisDM.
Important Advisory Before Updating
You might be eager to dive into the new features and explore the possibilities, but we urge all our users to approach this update with care. Please take note:
Once you transition to WisGateOS2 2.2.0, you won't be able to downgrade to any previous versions via WisDM or the local Web UI. However, if it comes to that, we have you covered, contact us.
We've integrated advanced security protocols, and all extensions for this version are digitally signed. Expect your extensions to auto-update during this upgrade.
A special note to our WireGuard Extension users: Please contact our RAK support team before initiating the update to ensure a smooth transition.
In all seriousness, the WisGateOS2 Firmware 2.2.0 update is a significant milestone in the evolution of our WisGate Edge gateways. It is a big step with notable implications for any system that is being updated so don't take it lightly.
With enhanced security, new features, and crucial bug fixes, this release is designed to empower users with greater flexibility, reliability, and ease of use. By keeping your firmware up to date, you're not only staying ahead of potential security threats but also ensuring that your IoT deployments continue to run smoothly.
To learn more about this update, visit the RAK support page and explore the full release notes. Don't miss out on these exciting improvements that can take your IoT deployments to the next level.