Off-grid and Environmentally Friendly Deployment, Mission Possible with RAKwireless' Solar Battery Solution - Battery Plus
IoТ solutions, and LoRaWAN® in particular, gain more and more popularity in every walk of life. Network infrastructures using RAKwireless gateways build both small and large-scale projects worldwide. Different deployments can be found in rural areas, providing industrial and farming solutions. Often, the gateways need to be installed in remote areas, where there is limited or no access to electricity.
Imagine a situation. You have been planning your next IoT solution. Everything is going ok, but you encounter a problem. The electricity in the area is unstable or even unavailable. Bummer, right? Not necessarily. Continue reading to learn how you can bring the electricity where you need it with RAK9155 Battery Plus. Explore why and how you can implement solar energy in your deployment.
What is the RAK9155 Battery Plus and why is it a clever idea to use it?
RAK9155 Battery Plus is RAKwireless' latest battery system. It is specially developed for the WisGate Edge Pro gateways. WisGateOS is bringing to it the benefits of a solar charging system and battery status monitoring.
You can take a step toward being more environmentally responsible even when you deploy your gateways. As mentioned before, IoT solutions are gaining fans all around the globe. You have the freedom to let your imagination go wild and to come up with your unique solution, and RAKwireless' job is to make sure that you have all the necessary products to satisfy your needs. You can achieve your plans and goal and stay eco-friendly in the process.
More About The Solar Battery
RAK9155 combines several features, which make it a reliable and necessary addition to any off-grid deployment. What if you live in a place with high humidity, or a tropical climate complicates things? The enclosure's IP65 rating ensures safe outdoor positioning, so you are guaranteed impeccable work from the device in any atmospheric condition.
The Battery Plus can be charged even in temperatures under 0 °C. It integrates a solar charger and heater and can be connected to photovoltaic (PV) panels directly. It can be used all year round, including the winter season, wherever you are.
The lightweight design of the Battery Plus makes it possible to be easily transported or carried to the spot where you need it.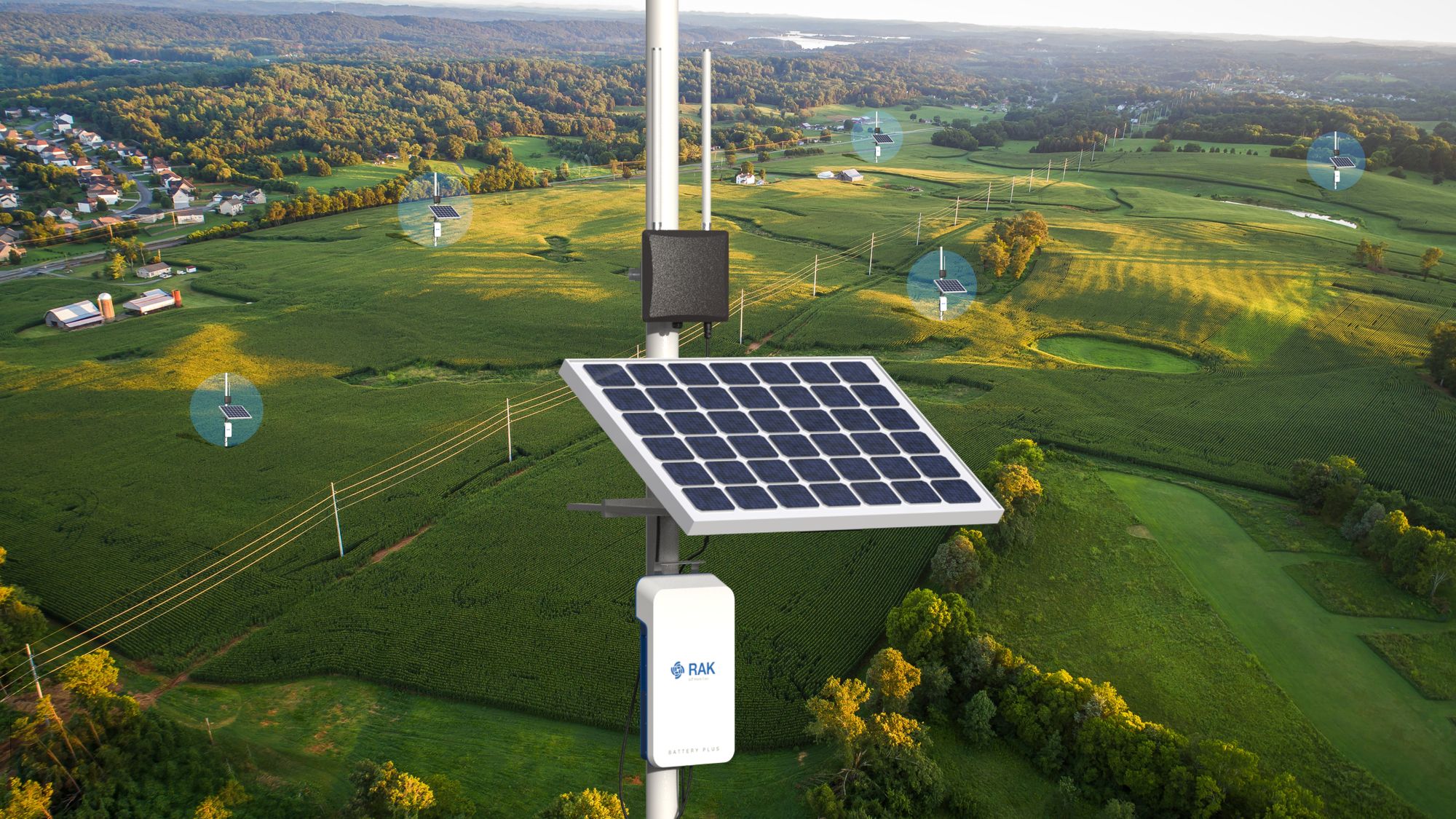 Off-grid Deployment
Battery Plus is a great solution if you need to deploy your gateway off-grid in rural areas. The solar battery solution proves to be of crucial importance when you want to deploy your project in a remote area where it is impossible or too expensive to provide any other electrical source. You have the freedom to deploy your WisGate Edge Pro gateway anywhere. Just position the solar panel of your choice well enough and the sun will keep your gateway powered.
But there are certain weather conditions under which the solar panels will not accumulate as much electricity, so what happens to your deployment? With its 50Ah capacity, the Battery Plus can provide external power to your gateway for up to 2 full days, even without the solar panels working.
Backup Power Solution
There are different scenarios where the electricity access is unstable. Your solution will not work well for you if the electricity stops for a few hours a day, and your gateway stops working. Under those conditions, you are unable to make the best out of your investment. In those cases, RAK9155 comes to the rescue. You can power your gateway through the electrical grid and rely on the Battery Plus when the electricity is off.
Eco-friendly
The greener, the better. The number of people concerned about the environment is growing by the day, as it should. RAK9155 is your chance to do your part by harnessing solar power for your IoT solution. RAKwireless' Battery Plus can work with up to 2 solar panels.
RAK9155 is intentionally sold without solar panels since we know our products are used worldwide. We left it up to the user to consult a local PV panels provider of their choice, to receive the most suitable solar panels for the deployment and environment while saving on delivery of a big, heavy, and costly package.
Status Monitoring
Imagine the following scenario – you have one or multiple gateways in a remote area. The weather has been overcast all day long. You want to know what is going on with your fleet and the battery's status. However, it is hard to physically reach the place, or your day is hectic, and you lack the time to go check it yourself. Worry not. You can just open WisDM and see what the state of the RAK9155 is – if it is currently charging; when it will be fully charged; how long it will keep your gateway powered on in case the weather conditions do not allow the PVs to generate power. The integration with our remote device management platform makes monitoring and planning accordingly to the situation so much easier. It lets you be proactive!
In short, gateway deployment is possible almost everywhere and you never have to worry about the power again. RAK9155 Battery Plus power system integrates the design and functionality to make that possible. Purchase today!