How An Ultra-Low Power LoRa® Module Helped Reimagine Foot Traffic and People Counting
About the customer:
Dor is a data-driven company operating in the fast growing Token Incentivized Physical Infrastructure Web3 field. They created the world's first battery-operated, thermal-sensing, peel-and-stick people counter. Known as Dor Traffic Miner (DTM), the innovative data miner can be placed in a doorway to track the movement of people through any physical space, and allows anyone to collect foot traffic data from any location. Its most recent version, made in partnership with the Constellation Network, allows users not only to count people but also to earn cryptocurrency rewards.
In terms of real-world utility, the collected foot traffic data can be sold to enterprises that may find it valuable. These include retailers, market analysts, and industry insiders. Hotels, museums and event venues  can use the devices to track visitation trends during public events when individuals may visit without the need for tickets. Hospitals can use them to track overall visitor foot traffic from friends and family in addition to patients and staff. Data can also be sold directly to users who deploy the DTM in their space, but otherwise may be aggregated to help businesses determine general market conditions and the effectiveness of their campaigns.
For Dor, foot traffic is an invaluable dataset. Dor operated as a traditional SaaS business selling foot traffic analytics to retailers. Six years later, they got connected with Constellation Network. Now, they're focused on creating products and tools that encourage community participation in data collection, which also allows them to reach new types of customers who would like to harness the gathered data in innovative ways.
Challenges:
The DTM aims to solve the biggest pain point in the foot traffic industry: the difficulty of installation and implementation. Dor's competitors offer mainly camera-based solutions, which require running power and ethernet to the front door. This installation process is difficult to scale, so Dor designed and created battery-powered, peel-and-stick hardware.
However, ensuring that the device maintains connectivity, sensor accuracy, and a battery life that lasts more than a year proved to be a huge undertaking for Dor.
Additionally, Dor needed to find new ways for customers to upload their data to its cloud services.
Solution:
Dor determined that LoRaWAN® would be the most appropriate technology to provide them with long battery life that lasts years, ultimately improving customer experience. After exploring LoRaWAN modules from a number of prominent LoRaWAN market players, Dor chose the RAKwireless RAK3172 module and found it to be the best solution.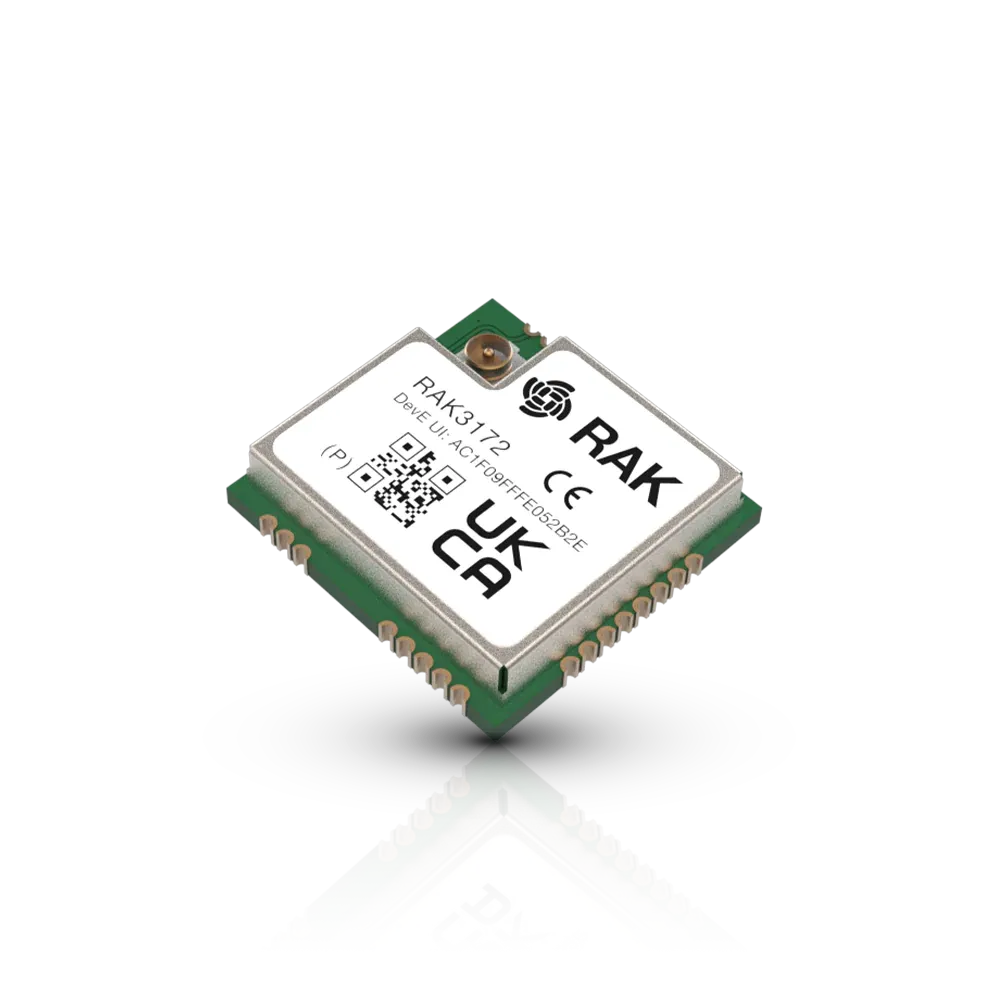 RAK3172 STM32WL Module for LoRaWAN
RAK3172 is a low-power long-range transceiver module for LoRa and LoRaWAN applications based on STM32WLE5CC chip.
Buy Now
RAK3172 is a low-power long-range transceiver module for LoRa and LoRaWAN applications based on the STM32WLE5CC chip. This module provides an easy-to-use, small-size, low-power solution for long-range wireless data applications. For Dor, it means the DTM will stay connected for years and gather accurate traffic data. RAK3172 allows custom firmware development using a variety of software development tools, including our easy-to-use, Arduino-compatible API via RUI3. This provided Dor with the option to create application-specific functionality directly within RAK3172 without needing an external microcontroller. Not using a host controller saves cost, current consumption, and circuit board space. Dor also chose the RAK3172 module because of its internal STM3WL SoC transceiver maturity and its mass production scale.
Results:
The RAK3172 module for LoRaWAN, alongside the Helium network, enabled Dor to start sending data  immediately after power-up.
Dor's decision to use the RAK3172 module as part of their hardware delivered:
rapid deployment;
frictionless onboarding experience;
and easy troubleshooting in the field if a sensor loses its primary cloud communication.
RAKwireless is also known for having a strong developer community, which was a huge advantage for Dor.
Testimonial
"With wireless connectivity supported by the RAK module and the Helium network, our Dor Traffic Miner has become the first battery-powered hardware device to mine ground-truth data operating on a decentralized web3 infrastructure. Each DTM is a data validation node on Constellation's Hypergraph network. Now the crypto community can own a Dor device to collect foot traffic from any location and earn rewards."
- Ben Jorgensen, CEO, Constellation Network