We have been working on a new member of the WisGate family here at RAKwireless. Let us introduce you to WisGate Connect (RAK7391).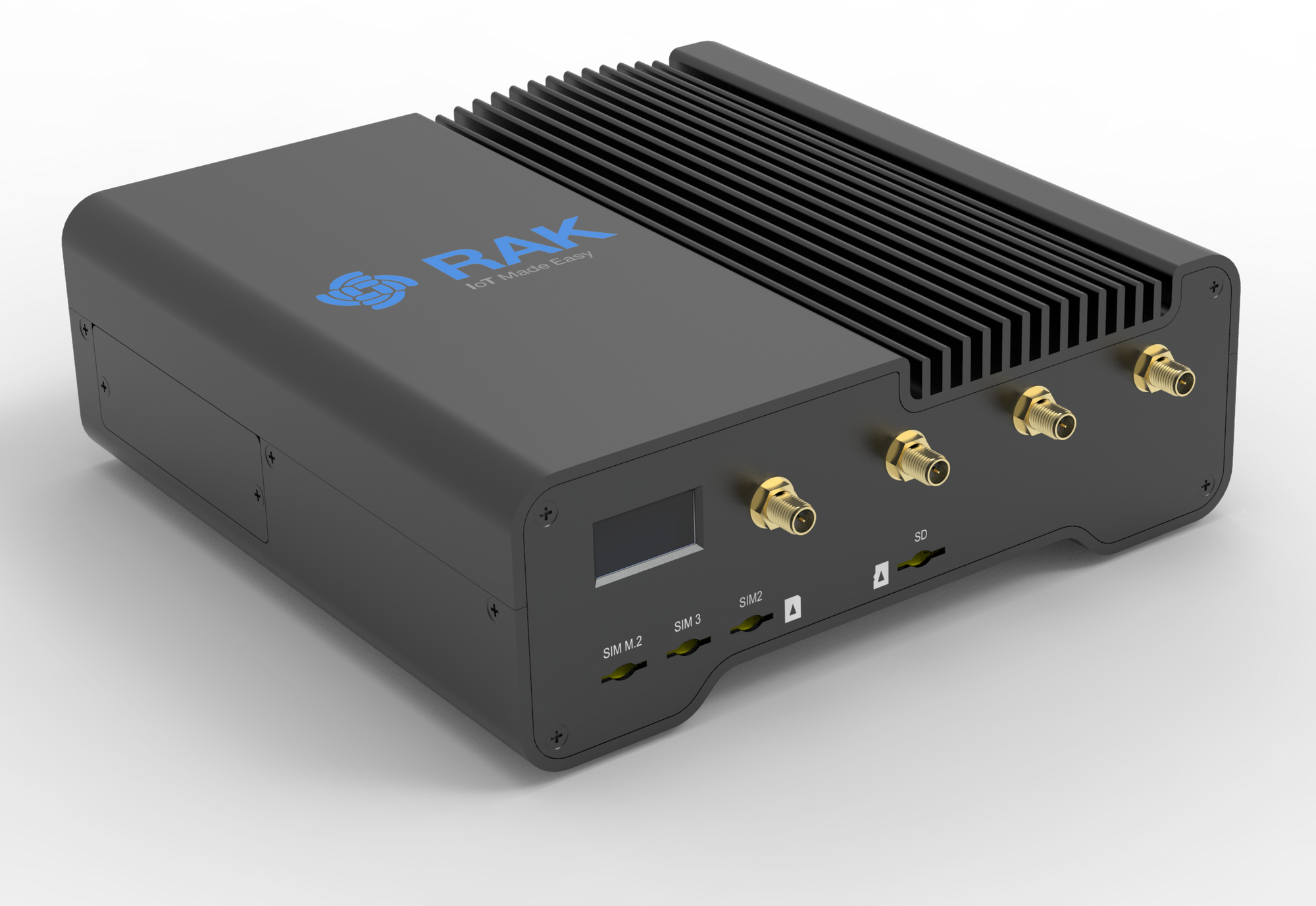 The WisGate Connect is a modular IoT platform for multi-radio access networks and IIoT protocols powered by a Raspberry Pi Compute Module 4.  A platform you will be able to tailor to your specific needs: from development to deployment on the field.
The Raspberry Pi Compute Module 4 is basically a Raspberry Pi in a tiny form factor, without the peripherals like the Ethernet or USB ports but with the same power and some goodies that make it suitable for industrial solutions: wide working temperature range and onboard eMMC on some models, thus no need to use fail-prone, slow SD cards!
The WisGate Connect is compatible with all existing CM4 variants, with or without WiFi and Bluetooth, from 2 to 8Gb of RAM and from 8 to 32Gb of onboard eMMC storage for the operating system. Of course, it's also compatible with "Lite" modules without eMMC onboard. In this case, you can flash the OS directly on an SD card as you do with a Raspberry Pi, but we strongly recommend you use a module with eMMC memory.
Aside from the CM4, the WisGate Connect includes a Real Time Clock, and 16-bit Analog to Digital converter (available on the WisBlock slots), a temperature sensor, a fan driver, and two GPIO expanders providing 32 new IO on the MiniPCIe and WisBlock slots as well as some user-driven LEDs on the board. Oh, and a buzzer!
Modular hardware
We've heard a lot of times that there is no «silver bullet» in the IoT landscape. No technology can provide a solution for all the different use cases that we see every day, and the number of them keeps on growing. That's why we designed a device that can support different options in a modular fashion.
The WisGate Connect is designed to support multiple connectivity options, both wireless and wired. It has 3 MiniPCIe slots and 1 M.2 B-keying slot for wireless radios like LoRaWAN subGHz, LoRaWAN 2.4GHz, 4G, 5G, WiFi6, WiFi HaLoW, Zigbee, Thread…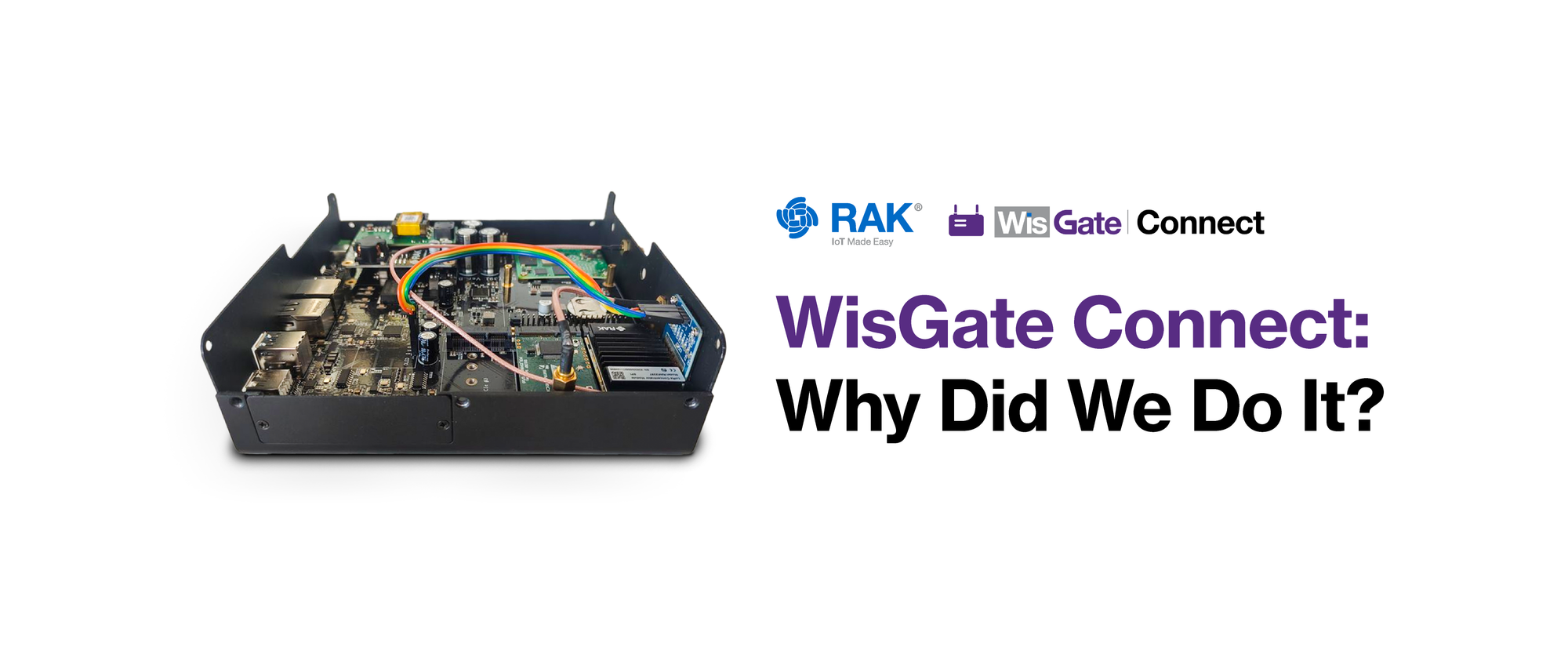 If you are interested in industrial protocols, the WisGate Connect has 2 WisBlock IO slots compatible with tens of different existing modules to cover protocols like ModBUS, CanBUS, LinBUS, 4-20mA, 0-5V…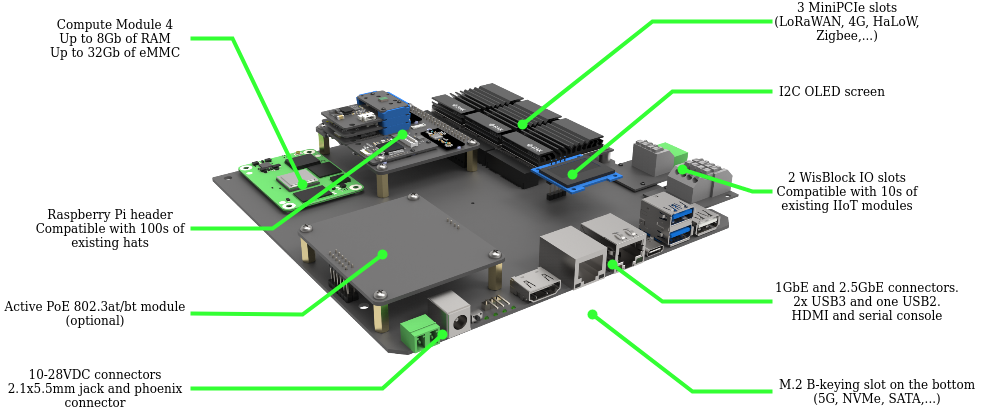 It also has one 1Gb Ethernet port (with PoE support) and another 2.5Gb Ethernet port, two USB3 and one USB2 ports for external devices, and a full-size HDMI port serial console access. And, of course, it's compatible with all the Raspberry Pi hats out there.
Also, having access to the PCIe lane in the Compute Module 4 from one of the MiniPCIe slots and the M.2 slot provides support for a range of uses from 5G to NVMe drives, SATA drives, Ethernet, USB, adapters… In a Raspberry Pi that interface is used exclusively for the USB3 and not available to the customer.
Industrial power options
The device supports 10-28VDC power supply via the 2.1x5.5mm barrel connector or the Phoenix connector and also Active PoE (IEEE 802.3at or IEEE 802.3bt) with up to 60W (with the optional PoE module).
It also supports dying gasp functionality so it can send a notification in case of power failure or survive short power cuts.
RAKPiOS: a linux distribution for the WisGate Connect
We have prepared a custom «distro» for the WisGate Connect called RAKPiOS. The RAKPiOS is a fork of the Raspberry Pi OS with all the required drivers to use the device, some security changes, helper scripts and Docker included by default.
You can easily deploy several IoT services from a curated list of docker containers available from the device.
Different configurations
Not only you can choose the compute module memory and storage, or the number of radios and the protocols you want to support, or the wired protocols you want to use with the WisGate Connect.
We have three different enclosures for the WisGate Connect depending on your requirements. First we made it compatible with the aluminum/plastic outdoor enclosure we use on our popular WisGate Edge Pro gateways.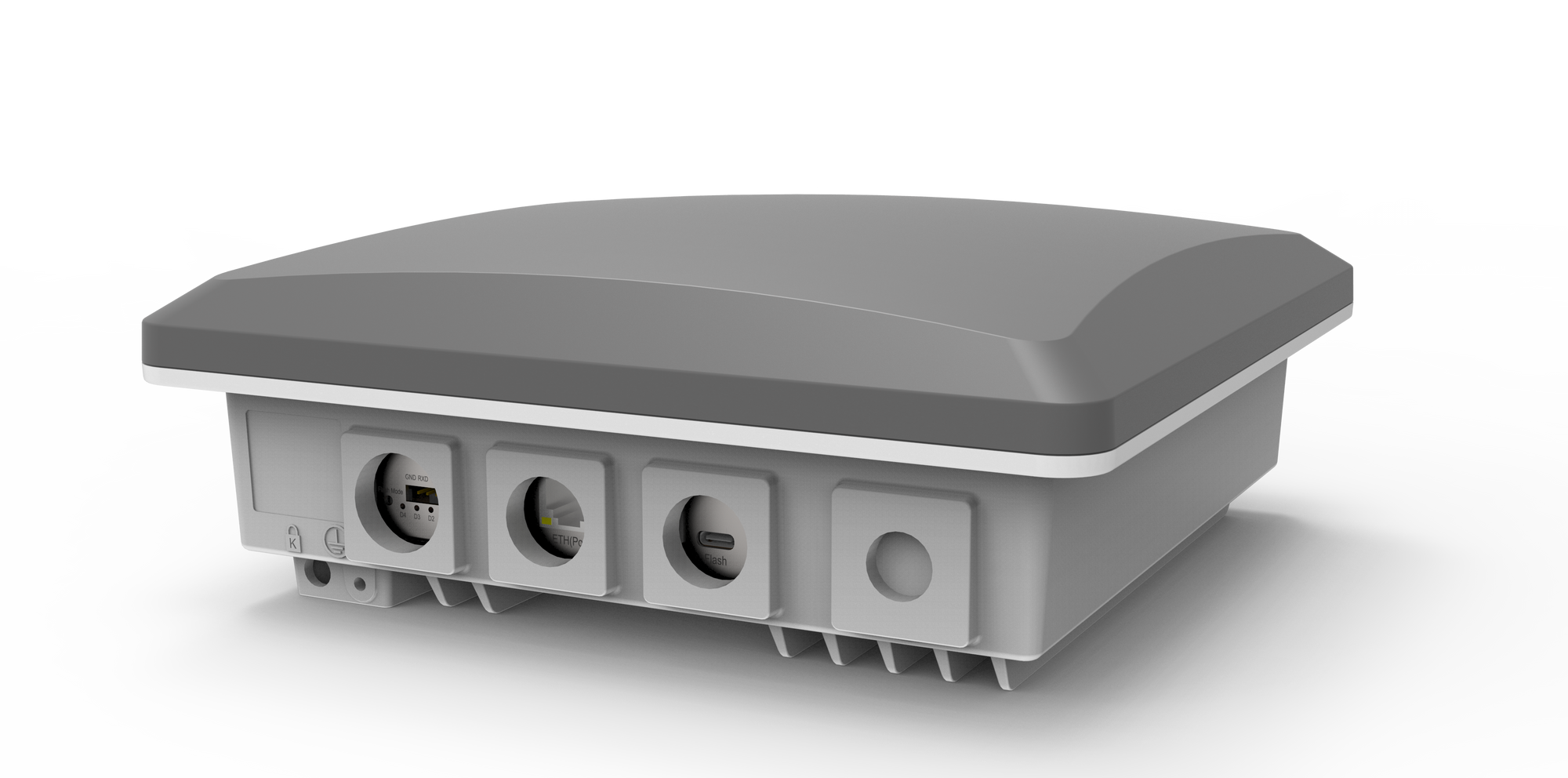 Second, we designed a new metal indoor enclosure that you can use on your desktop or place on the wall. It provides access to all the back connectors (USB, HDMI, Ethernet…) and up to six SMA antennas (yes, 6). It also has a small OLED screen to display basic info about the device (IP, CPU load, free mem, or really anything you want).
If the sheet metal enclosure is not enough, we have a gorgeous aluminum enclosure that you can deploy on hard locations like factories (there is an MOQ for this).
Best of both worlds
The WisGate Connect sits in between the WisGate Developer and the WisGate Edge families. It offers the advantages of the flexible and rich ecosystem of the Raspberry Pi with the reliability of an industrial degree product.
Whether you are an IoT developer, a solutions provider, or a company looking for a new platform, we hope you will soon have a WisGate Connect on your desk and start exploring the possibilities of this brand-new product.