We have some amazing new modules and accessories for WisBlock for you. We are always listening to your feedback and ideas, so this time we are making the power supply modular.
1. #PowerMadeModular
As the whole WisBlock is based on the modular concept, we wanted to extend this to the power supply. Often, we get questions about different power supply options that are not available on our current WisBlock Base Boards. As space is tight, we cannot just add all options, so we separate the power supply from the Base Boards by creating the Power Modules.
This gives you the flexibility to choose the power supply option that fits best for your requirements. We start the #PowerMadeModular with four Power Modules and three new Base Boards with the new Power Slot.
These are the new Power Modules: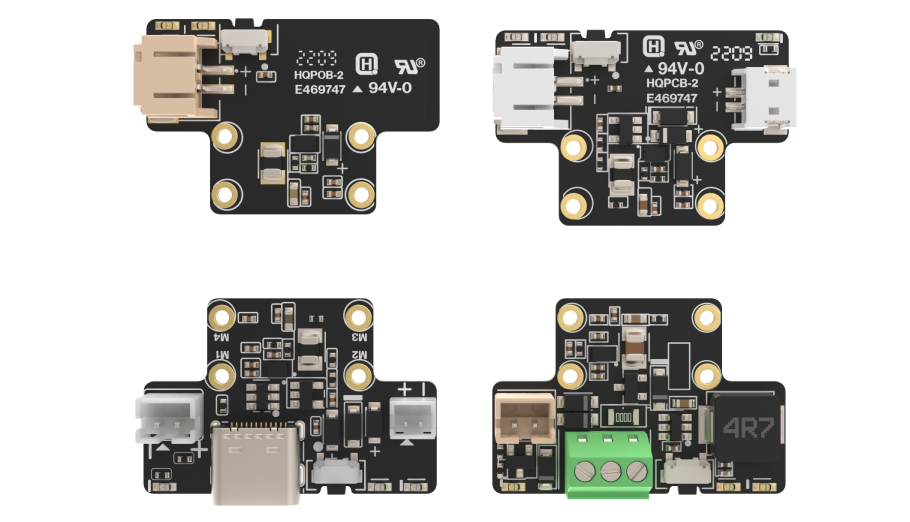 Rest assured, we will not stop with these 4 Power Modules. Look out for more to come.
Matching to these Power Modules are three new Base Boards. They are similar to our existing Base Boards, only with the new Power Slot:
RAK19009 - the smallest Base Board with only 2 Sensor Slots. With its size of 47 x 30 mm it is only slightly larger than our Mini Base Board
RAK19010 – the "standard" Base Board with 4 Sensor Slots and 1 IO Slot
RAK19011 - the #PowerMadeModular version of our Dual IO base Board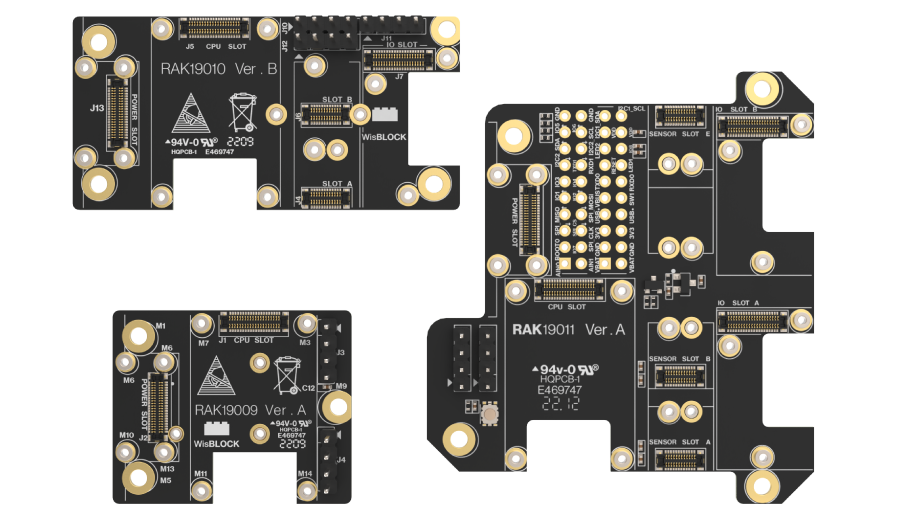 How does it work?
Let's show this with an example for an industrial WisBlock Solution, where we have 24V power supply.
To start with, we use the RAK19010 BaseBoard and the two power modules RAK19012 and RAK19016: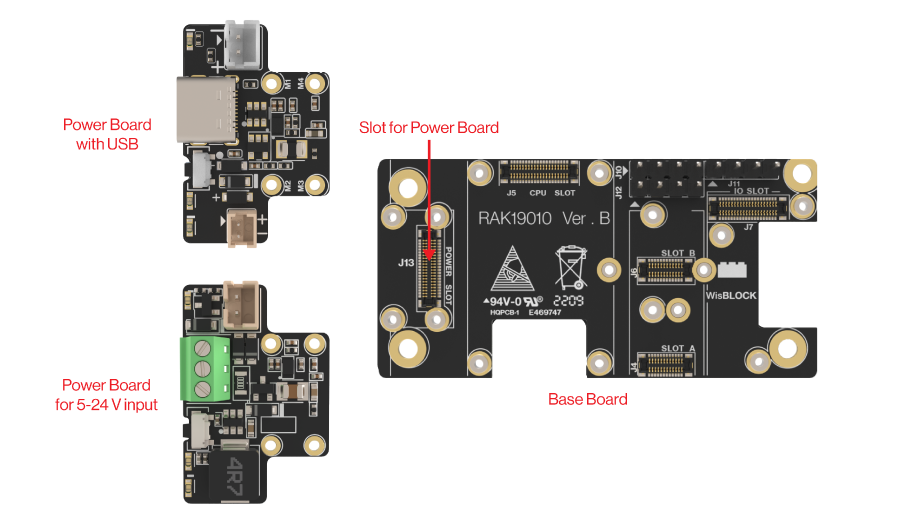 During the development and firmware test phase we use the RAK19012 Power Module which has a USB port to flash new firmware and debug the code.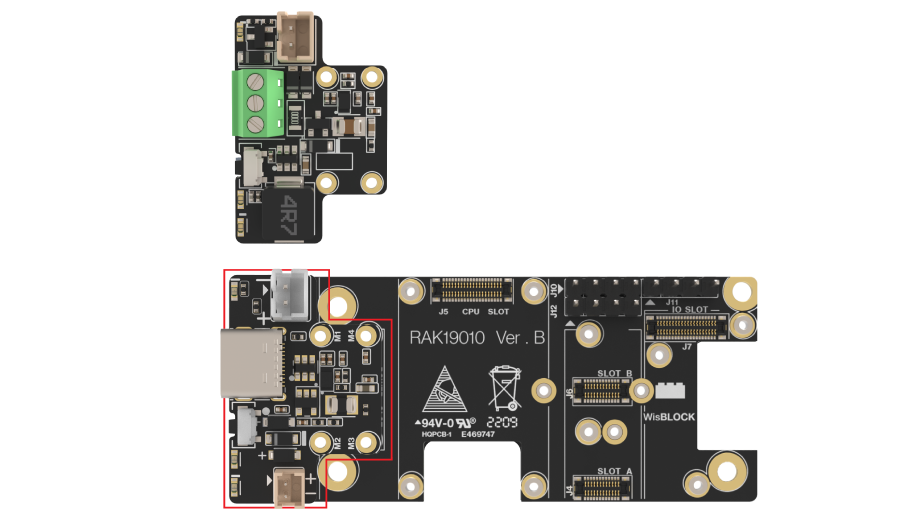 When it is time to deploy the WisBlock solution, we replace the RAK19012 with the RAK19016 Power Module. Then it can be directly powered from an industrial 12V or 24V power supply.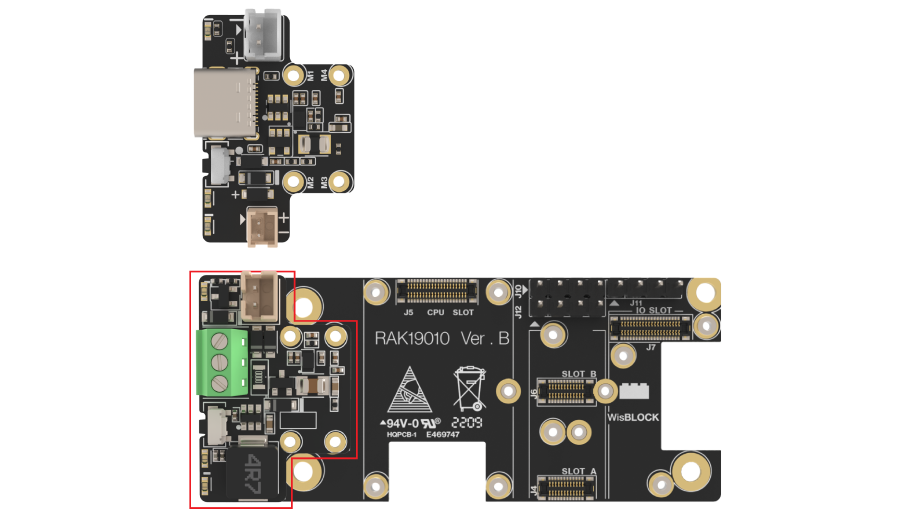 2. Unify Enclosure
As the WisBlock product group is growing, we searched for a better enclosure to deploy the WisBlock-based products.
We decided to design our own enclosures that match perfectly with the WisBlock Base Boards. To start with, we designed two outdoor enclosures:
RAKBox-UO100x75x38, is an Outdoor IP67 Waterproof Fire-retardant Plastic Enclosure that is perfect in size for the RAK5005-O and RAK19003. With matching mounting plates for both Base Boards and mounting accessories for wall and pole mount.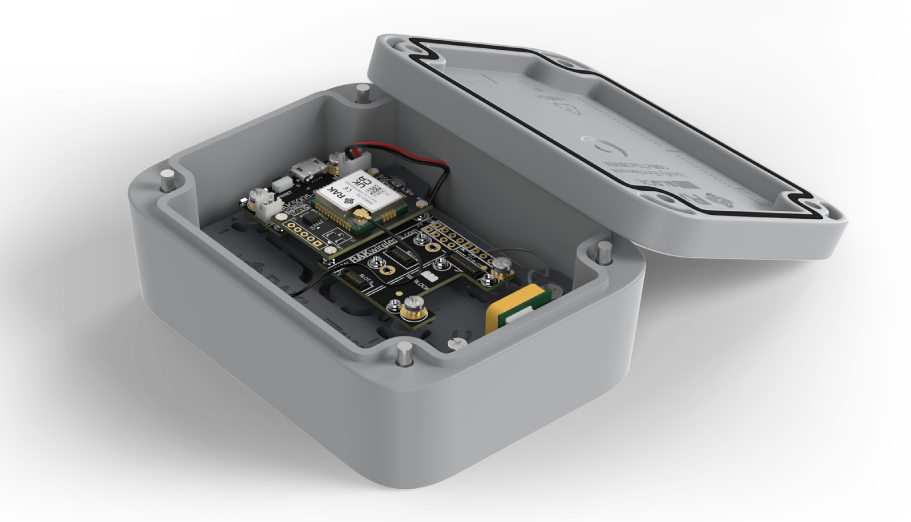 RAKBox-UO150x100x45, is a medium-sized Outdoor IP67 Waterproof Fire-retardant Plastic Enclosure with plenty of space for a bigger base board like RAK19001 and more. Wall and Pole mount accessories are available as well.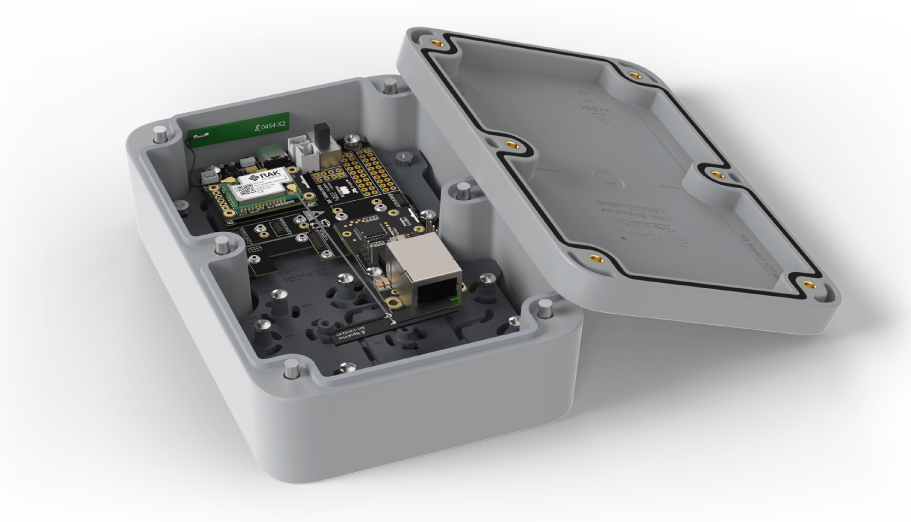 The mounting plates for both enclosures can easily be adjusted to different types of Base Boards and sensor/IO modules with their cutting guides to create openings for WisBlock modules.
3. New Sensor Modules
Besides the #PowerMadeModular, we launch a couple of new WisBlock Sensor Modules as well.
For me, the most amazing module is the RAK12047, an indoor air quality sensor based on the Sensirion SGP40 for VOC measurements.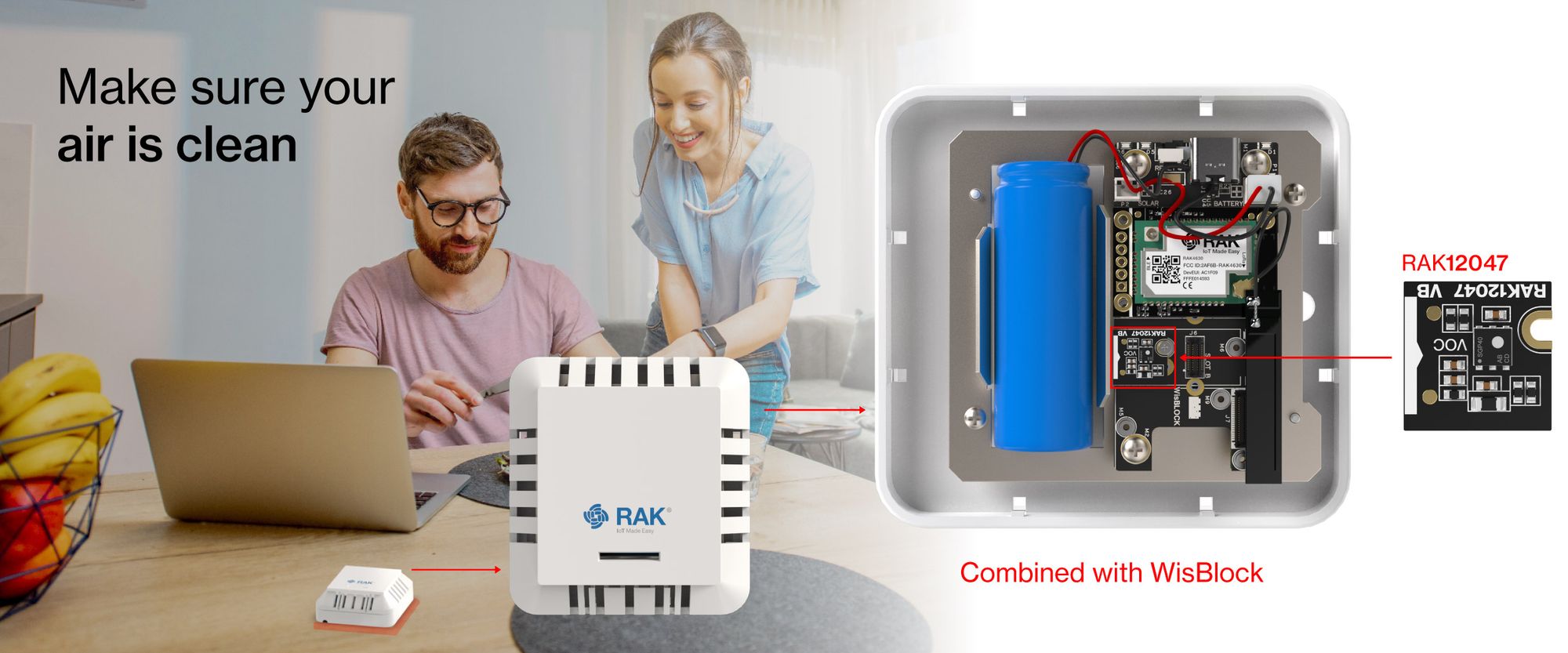 It is a digital gas sensor designed for easy integration into air purifiers or demand-controlled ventilation systems.
The output signal can be directly processed by Sensirion's powerful Gas Index Algorithm to translate the raw signal into a VOC Index.
This is supported by Sensirions open-source libraries.
The Sensirion algorithms work best when besides the RAK12047's signal it is provided with air temperature and humidity.
This can be done by combining the RAK12047 with our temperature and humidity sensor like the RAK1901 or RAK1906.
RAK12047 Feature
Based on Sensirion SGP40
MOx based gas sensor for indoor air quality applications
Measurement range:0 to 1000 ppm (Ethanol in clean air)
VOC Index, processed value from SRAW_VOC 1 – 500 VOC Index points
Supply current under operation: under 3mA
I2C interfaces
small size:10mmx10mm
These two sensors enhance our portfolio with the TDK InvenSense IIM-42652 6-DOF sensor, and the Bosch BMX160 9-DOF sensor.
These two sensors are perfect for projects where movements or rotations need to be detected and measured, like location trackers, drones, or in robotics.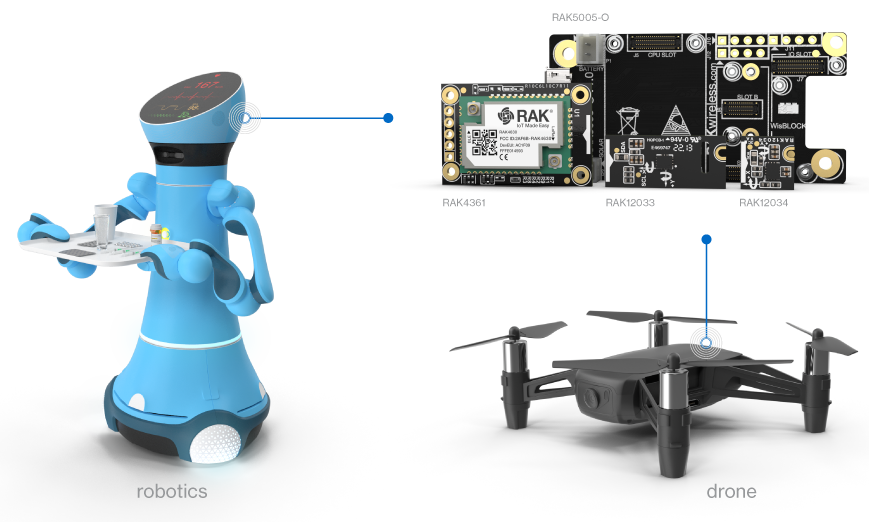 RAK12033 features
Based on TDK InvenSense IIM-42652
Digital-output X-, Y-, and Z-axis angular rate sensors (gyroscopes) with programmable fullscale
range of ±15.625, ±31.25, ±62.5, ±125, ±250, ±500, ±1000, and ±2000 degrees/sec
Digital-output X-, Y-, and Z-axis accelerometer with a programmable full-scale range of ±2g,
±4g, ±8g and
±16g
20,000 g shock tolerant
I2C digital interfaces
3.3V Power supply
Operating Temperature: -40° C ~ 105° C
RAK12034 features
Based on Bosch BMX160
Very low power consumption: typ. 1585 μA in high-performance mode
Selectable Acceleration Range ±2 to ±16 g
Gyroscope Range 125 °/s to 2000 °/s
Magnetic Field Range x/y ±1300 μT z ±2500 μT
3.3V Power supply
Operating Temperature: -40° C ~ 105° C
The RAK16002 is a coulomb sensor based on the Analog Devices LTC2941. It measures battery charge state in battery-supplied handheld PC and portable product applications. Its operating range is perfectly suited for single-cell Li-Ion batteries. A precision coulomb counter integrates current through a sense resistor between the battery's positive terminal and the load or charger.
Keep track of the battery status in your mobile application for LoRaWAN or systems applied in remote areas.
Monitor the charge and discharge of a battery-powered application with the RAK16002.
Determine the state of charge of your battery via coulomb count which is more accurate than the battery voltage.
RAK16002 Features
Based on Analog Devices LTC2941
Indicates Accumulated Battery Charge and Discharge
±1A Sense Current Range
I2C interface
High Accuracy Analog Integration
1% Charge Accuracy
Configurable Alert Output/Charge Complete Input
2.7V to 5.5V Operating Range
Quiescent Current Less than 100μA
Operating Temperature: -40° C ~ 85° C