LoRaWAN technology is currently in a sweet spot. Its unique set of capabilities has turned it into the wireless technology of choice for most metering and sensor solutions. Of course, that doesn't mean other technologies don't have good market share or offer good options for some use cases. However, the question of "Is it LoRaWAN-compatible?"  pops up for every wireless sensor manufacturer.
One main component of a LoraWAN® network is its gateways. Through ChatGPT, we gathered some information about the features of state-of-the-art gateways, just to see how our WisGate Edge family measures up. Here's what it had to say: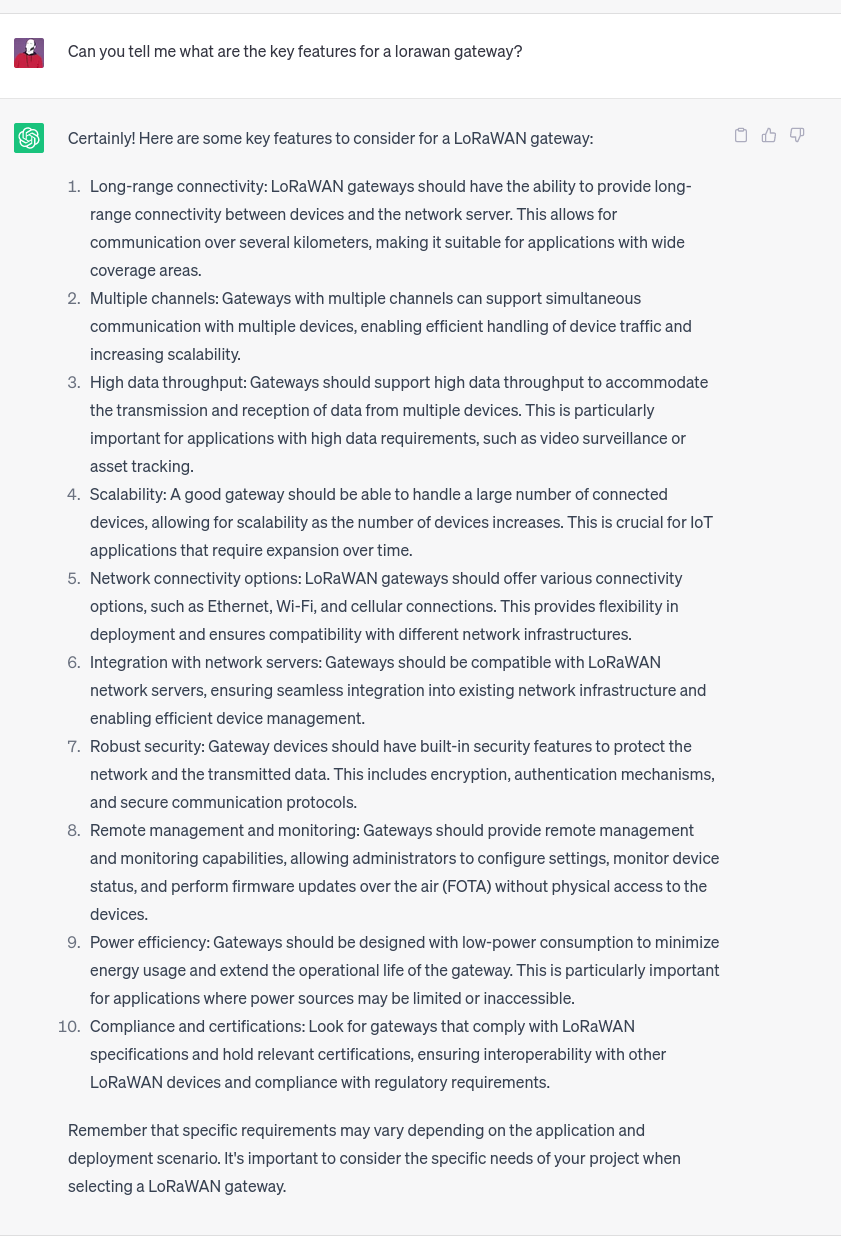 Xose: Can you tell me what are the key features for a lorawan gateway?
ChatGPT: Certainly! Here are some key features to consider for a LoRaWAN gateway:
1. Long-range connectivity: LoRaWAN gateways should have the ability to provide long-range connectivity between devices and the network server. This allows for communication over several kilometers, making it suitable for applications with wide coverage areas.
2. Multiple channels: Gateways with multiple channels can support simultaneous communication with multiple devices, enabling efficient handling of device traffic and increasing scalability.
3. High data throughput: Gateways should support high data throughput to accommodate the transmission and reception of data from multiple devices. This is particularly important for applications with high data requirements, such as video surveillance or asset tracking.
4. Scalability: A good gateway should be able to handle a large number of connected devices, allowing for scalability as the number of devices increases. This is crucial for IoT applications that require expansion over time.
5. Network connectivity options: LoRaWAN gateways should offer various connectivity options, such as Ethernet, Wi-Fi, and cellular connections. This provides flexibility in deployment and ensures compatibility with different network infrastructures.
6. Integration with network servers: Gateways should be compatible with LoRaWAN network servers, ensuring seamless integration into existing network infrastructure and enabling efficient device management.
7. Robust security: Gateway devices should have built-in security features to protect the network and the transmitted data. This includes encryption, authentication mechanisms, and secure communication protocols.
8. Remote management and monitoring: Gateways should provide remote management and monitoring capabilities, allowing administrators to configure settings, monitor device status, and perform firmware updates over the air (FOTA) without physical access to the devices.
9. Power efficiency: Gateways should be designed with low-power consumption to minimize energy usage and extend the operational life of the gateway. This is particularly important for applications where power sources may be limited or inaccessible.
10. Compliance and certifications: Look for gateways that comply with LoRaWAN specifications and hold relevant certifications, ensuring interoperability with other LoRaWAN devices and compliance with regulatory requirements.
Remember that specific requirements may vary depending on the application and deployment scenario. It's important to consider the specific needs of your project when selecting a LoRaWAN gateway.
Not bad! Sure, we could debate on some of the points and maybe add a few more. But with these points in mind, let's evaluate our own WisGate Edge gateways.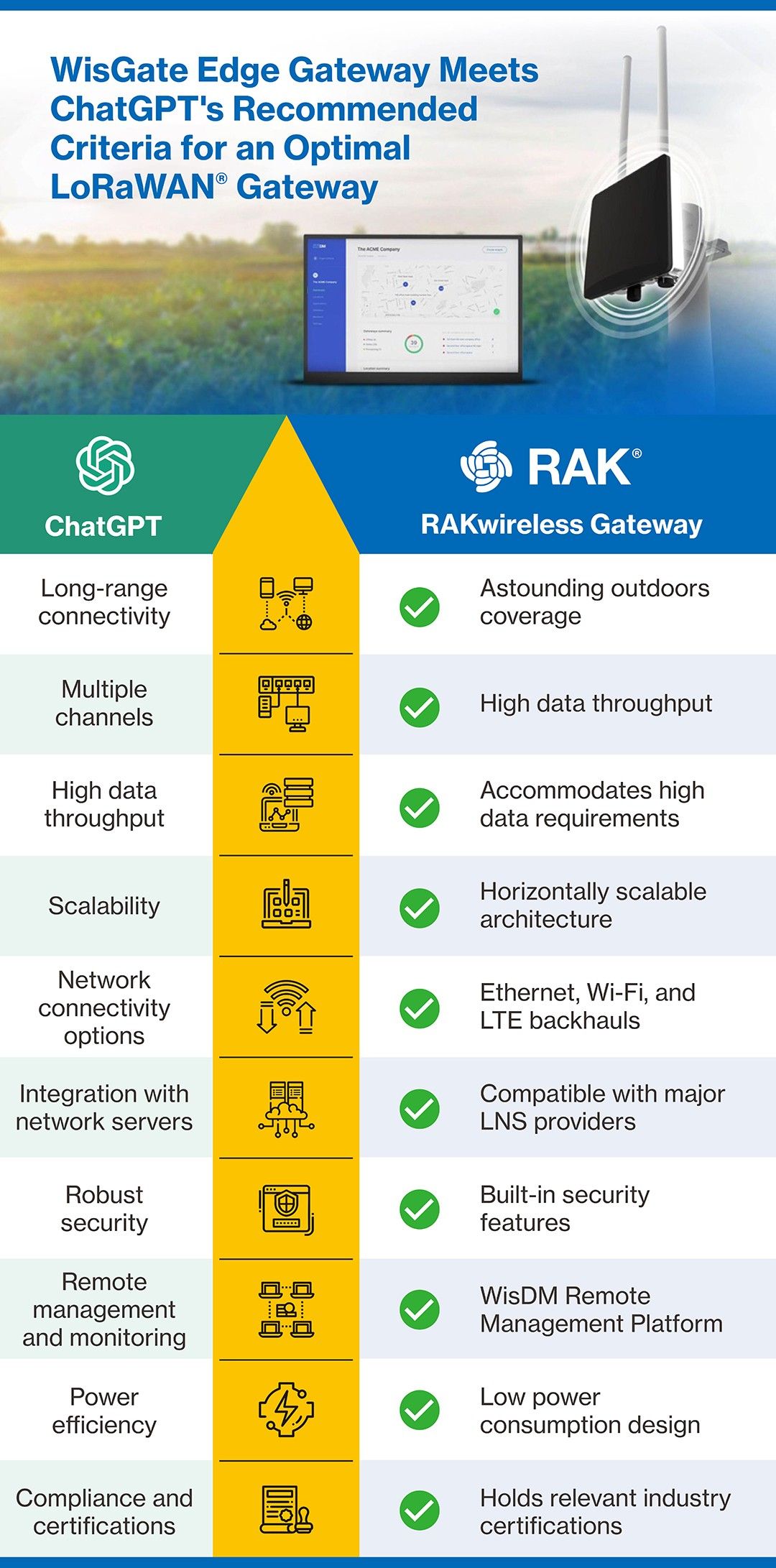 Long-range Connectivity
To be honest, we've always considered device location as a key aspect for range, over the gateway itself. But it's true that connection quality is affected not only by the device itself, but also the antenna and isolation. However, the WisGate Edge Pro(8 or 16 channel Outdoor LoRaWAN Gateway) has proved its long-range capabilities with several success stories.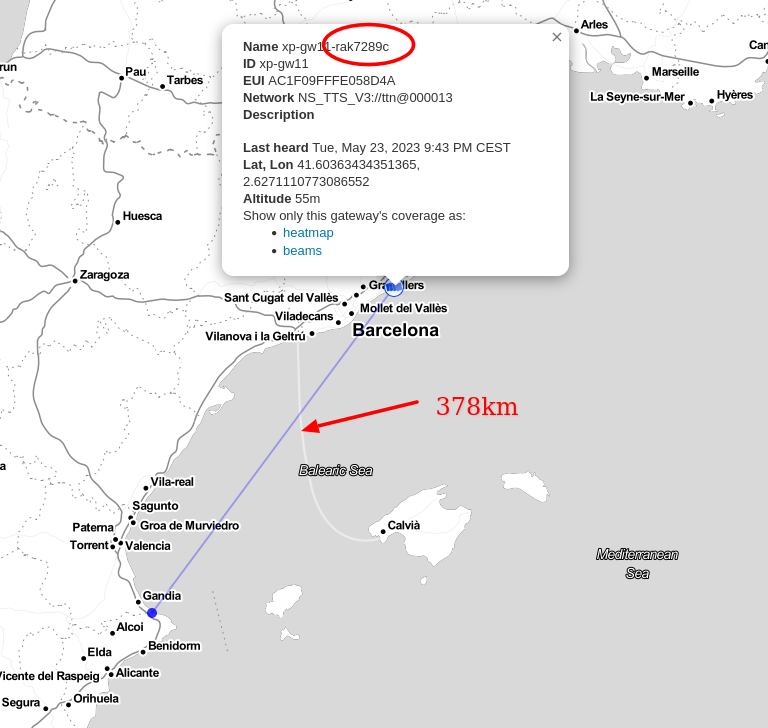 Multiple channels
WisGate Edge Pro has three MiniPCIe slots for up to 16 LoRa channels and LTE backhaul in parallel. This is the maximum number of channels defined for Europe. In other regions, it is allowable to have up to 96 uplink channels,like in China. But only very special use cases require more than 16 channels, such as high density deployments.
WisGate Edge gateways are easily upgradable from an 8-channel configuration to a 16-channel configuration. On top of that, you can also pair a sub-GHz radio with a 2.4GHz radio on the same device, so WisGate Edge gateways can also work as a multi-band gateway.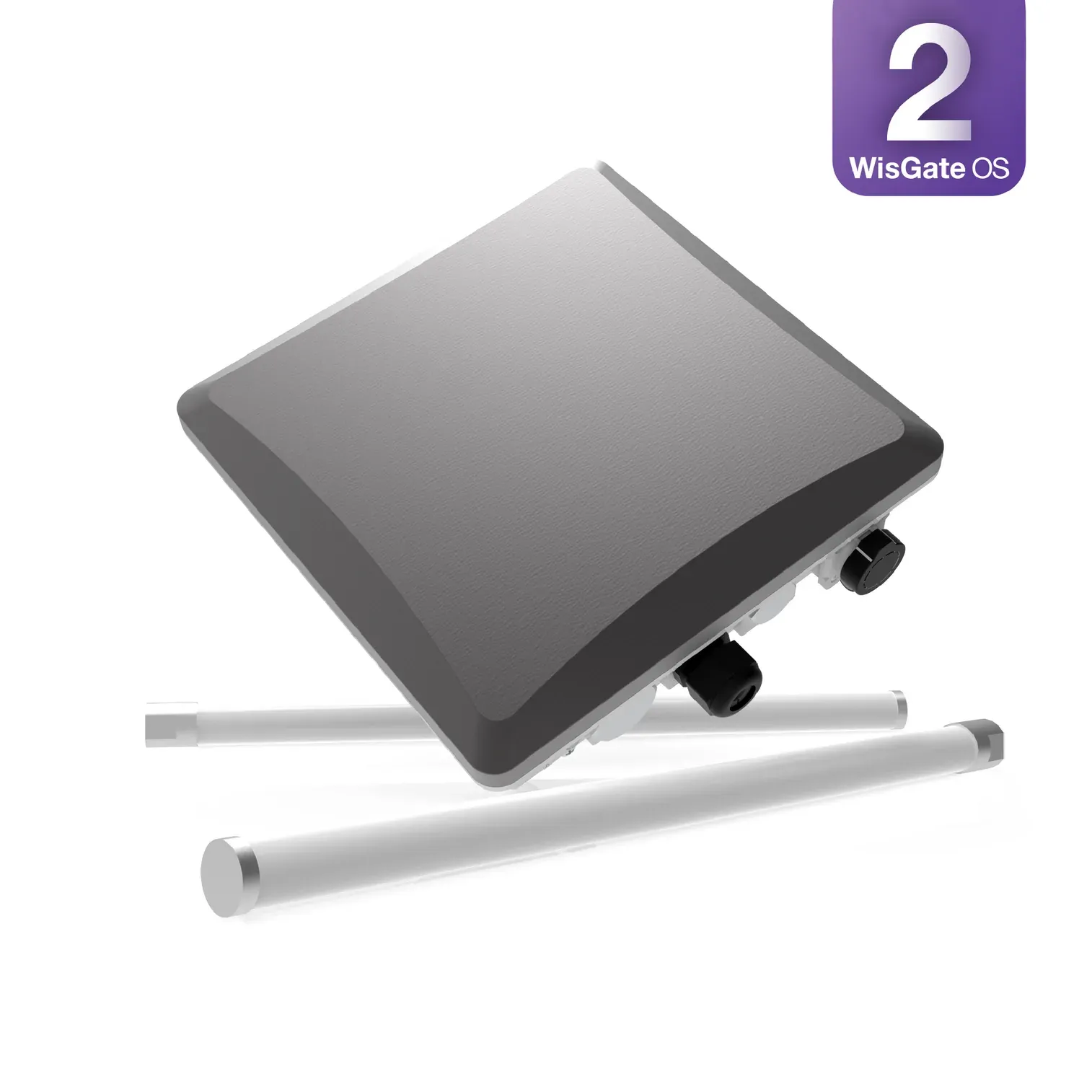 8 or 16 channel Outdoor LoRaWAN Gateway
Buy now
High data throughput
Assuming you have a perfectly distributed deployment of sensors configured with ADR active, a gateway supports up to 130K message per day and channel. This is roughly one message and a half per second and channel. In an ideal situation, with all sensors withing reach sending in SF7, this can grow up to 2 million uplinks per channel and day, or around 23 uplinks per channel and second.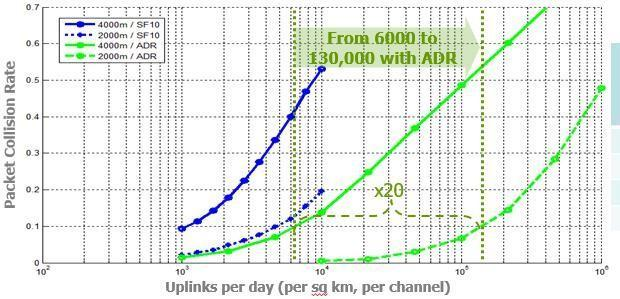 Scalability
Since the main component in a gateway—the concentrator—is a piece of hardware, gateways scale mostly horizontally.
LoRaWAN gateways report to a LoRaWAN Network Server (LNS or sometimes just NS). With the built-in NS, you can scale by simply adding more gateways to your deployment, as long as they are all on the same LAN. WisGateOS2 (the OS running inside WisGate Edge gateways) implement a specific protocol to communicate the master gateway with the extension gateways in a reliable way using MQTT as transport protocol.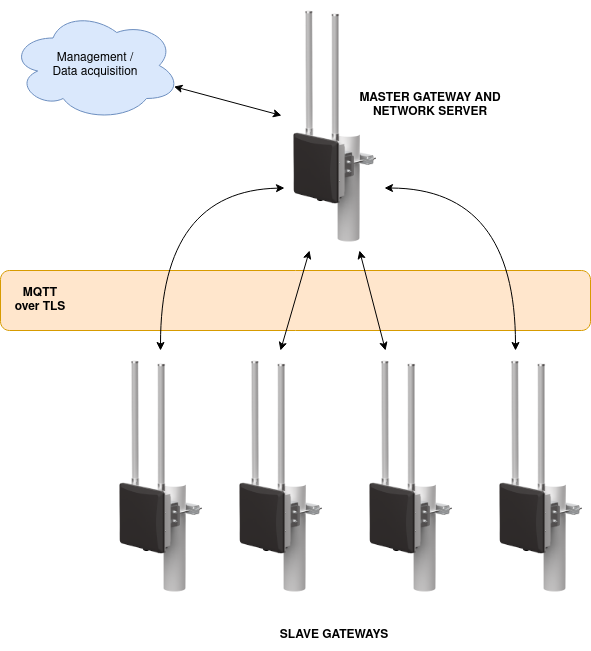 Network connectivity options
WisGate Edge gateways include Ethernet and WiFi backhauls by default, and LTE backhaul optionally. This covers 99.9% of connectivity options available at any given location. Cellular connectivity is especially useful in locations where wired connectivity is not an option and WiFi is out of range.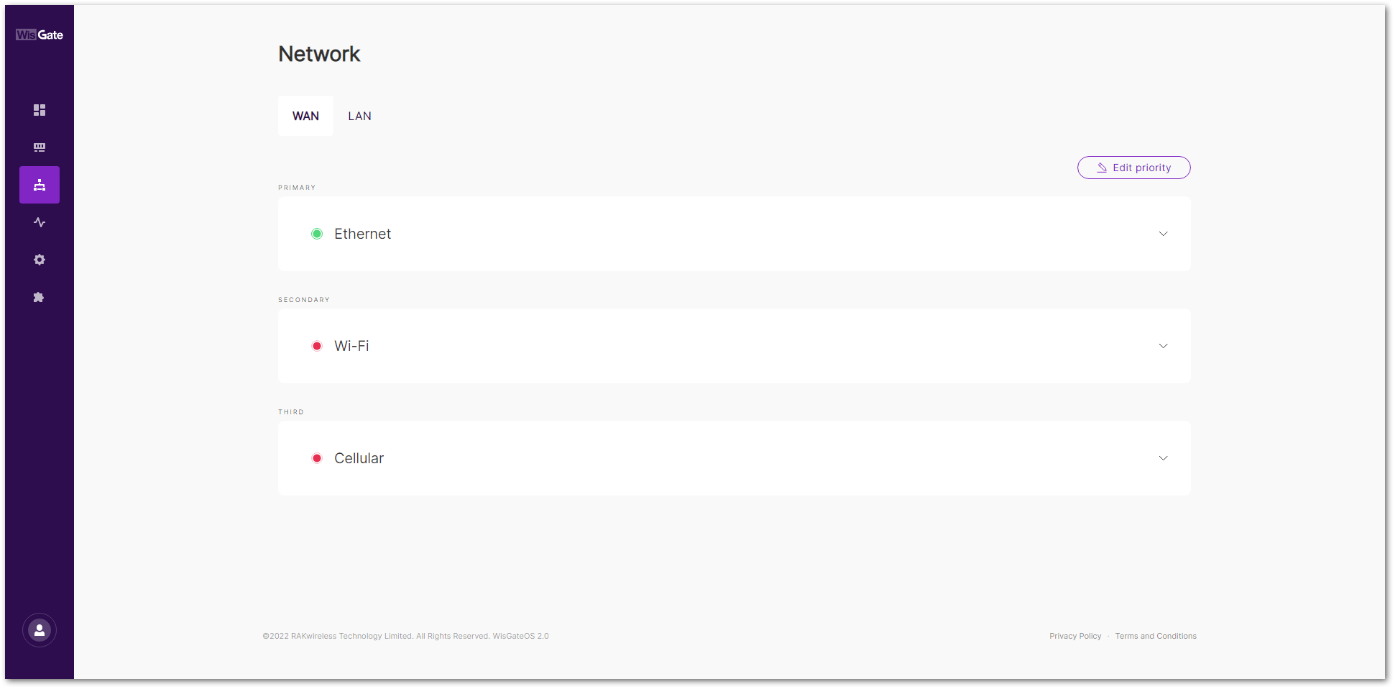 Integration with Network Servers
We have implemented UDP packet forwarder and BasicStation (both CUPS and LNS protocols) on WisGateOS 2. This means that pretty much any LNS that uses any of these two de-facto standards protocols is compatible with the WisGate Edge Pro.
To simplify the configuration even further, we created extensive tutorials on how to connect your WisGate Edge to the main LNS out there, including AWS IoT Core, The Things Network / The Things Industries, ChirpStack, and ThingsPark by Actility.
You can find all the information in the Supported LoRa Network Servers page in our documentation.
Robust Security
Access to the WebUI in the gateways is limited to HTTPS. We strongly recommend using BasicStation as the packet forwarder protocol between the gateway and the LNS. BasicStation uses HTTPS for CUPS connection and WSS for LNS data exchange.
Remote access to the gateway using our WisDM Remote Management Platform is done using a secured tunnel. All communications are ciphered on origin and we are not storing any sensor data on our servers. Access to the platform is done using RAKID Single Sign On (SSO) and requires 2-Factor Aunthetication (2FA).
Remote management and monitoring
All WisGate Edge gateways running WisGate OS (version 1 or 2) are compatible with RAKwireless WisDM  Remote Management Platform.
WisDM allows you to remotely manage your gateways and packs an astounding number of features, including:
Security-first Architecture: configuration and state data is encrypted on origin, LoRa data is never stored on the servers
SSO and 2FA for platform access
LoRa® Network configuration at fleet level (fleets are called "locations" on WisDM)
MultiWAN configuration and activation
LNS configuration
Over-the-air firmware upgrades
Credentials management
Realtime monitoring and notifications
Access to gateway logs
Remote access to gateway via a secured tunnel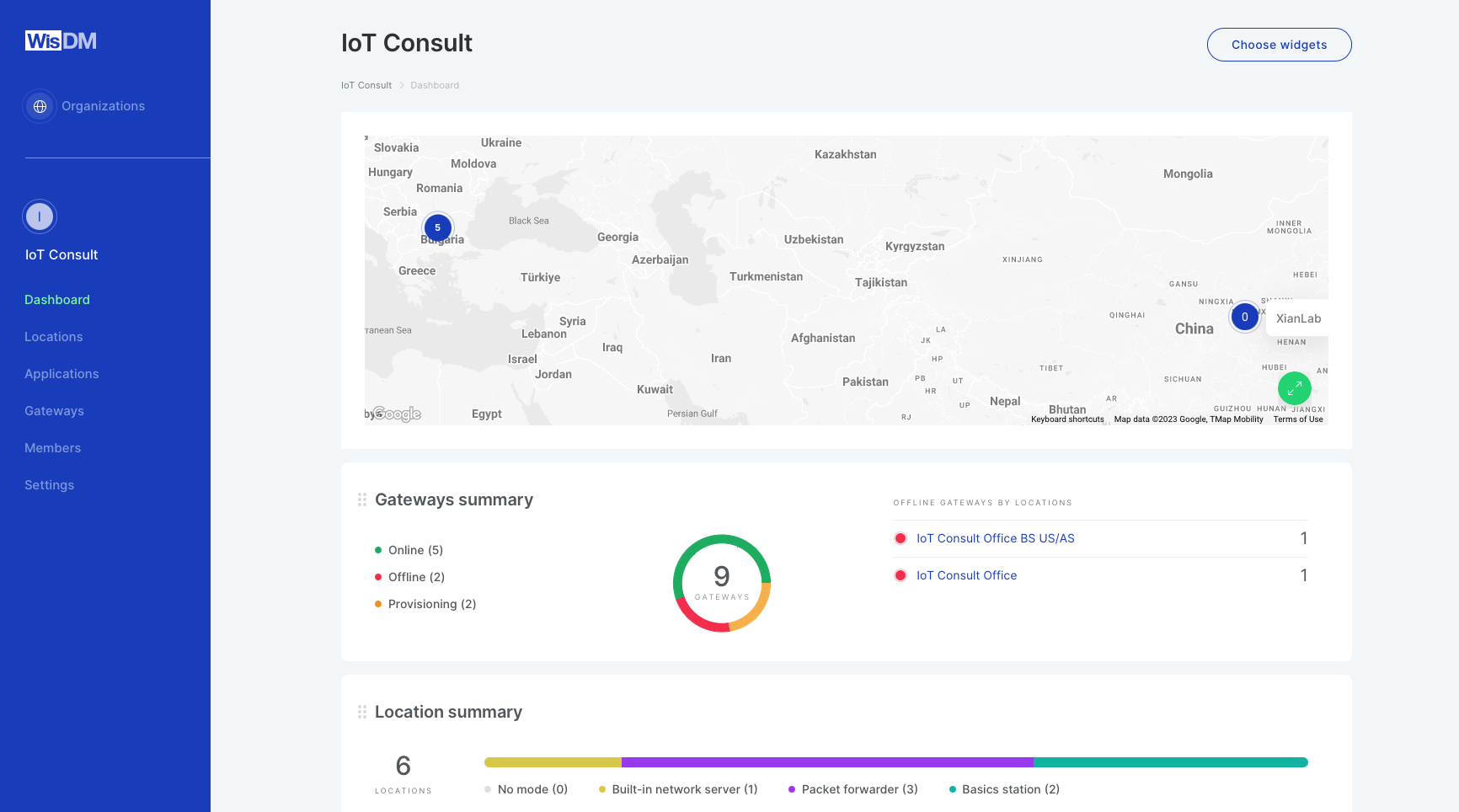 Power efficiency
A LoRaWAN gateway is a device that usually stays on all the time, listening to potential incomming messages. Let's justsay it's not a low-power device.
Still, the CPU in the WisGate Edge Lite and Pro (Mediatek MT7628) is a perfect fit power-wise for the requirements of a LoraWAN® Gateway with an average power consumption of just 6W (12W peak).
We have solutions for autonomous gateways using the RAK Battery Plus paired with a 80W solar panel. With a few hours of sun a day, the device can work continuously on battery.
On top of that, the WisGate Edge Pro implements a dying gasp feature based on 3 supercaps that are capable of powering the board for a few seconds to survive power micro-cuts or send notifications in case of a longer cut.
Compliance and Certifications
We're very aware that network providers have to conform to local regulations and hardware certifications. That's why we've worked hard to certify our WisGate Edge gateways for multiple markets globally. These certifications include: CE, ISED, JBTL, JRL, KCC, MTBF, RCM, REACH, RoHS, RCM, RSM, TDRA, and UKCA.
All certifications are available on our documentation center:
Summary
Overall, WisGate Edge gateways rank high on every single item of what ChatGPT considers key features of a LoraWAN® Gateway. With RAKwireless's years of expertise in producing LoRaWAN gateways, our hardware products and software solutions are guaranteed to be mature and efficient.