Build your IoT Breakthroughs Fast with the WisBlock System!
Click, Code, and Connect with The New Definition of Modularity
As the world becomes more fast-paced and technology is constantly being created, we are tasked to catch up by building solutions quickly and efficiently. Easy development and implementation of projects is needed to make sure we get to produce and market our ideas as soon as the technology is out.
Luckily, one of the leading IoT solutions providers, RAKwireless recently built a system that is entirely modular and easy-to-use: the WisBlock series. Because of this unique set-up, prototype-building and mass production can happen in a snap!
What is WisBlock and what are its main module groups?
WisBlock is a modular system that features simple plug-and-play components to make IoT projects easier to develop and implement.
WisBlock consists of 4 module groups, which include:
WisBlock Base: Base is WisBlock's main carrier board which provides a flexible power supply (from a USB 5V or battery) and connects all the other modules together. With one WisBlock Base RAK5005-O board, you can plug one WisBlock Core module, one WisBlock IO module and up to four WisBlock Sensor modules.
WisBlock Core: Core serves as WisBlock's main processing center. WisBlock Core supports LoRa communication and some modules also feature BLE or Wi-Fi.
WisBlock Sensor: Sensor allows data acquisition. WisBlock Sensor provides a selection of sensors that can easily be used by plugging them in. It can take form as an analog, digital, environmental, or a location-tracking sensor.
WisBlock IO: IO extends the capabilities of WisBlock, like Cellular and Wi-Fi modules, displays, LEDs, RS485, 4-20mA industrial interface, buttons, and ports for USB, I2C, UART, ADC, and GPIOs.
All of our WisBlock modules are optimized for low power consumption. Some features that will excite you are Base's ability (in the RAK5005-O) to switch the power supply for IO module on and off, and Sensor's functionality to help lower the power consumption when needed.
Despite the low power consumption, WisBlock offers high performance. Equipped only with the best processors and hardware parts such as Semtech® SX1262, Nordic nRF52840, with a 32-bit ARM® Cortex™-M4 MCU  for WisBlock Core, users can expect stable connection and hassle-free deployment of projects.
The WisBlock system is also easy-to-use. It can easily be programmed with the Arduino™ IDE, providing you access to countless libraries and example code for reference.
What are some of the use cases for WisBlock?
With its exceptional features, WisBlock can be utilized in different implementations. When a Sensor module is attached to a WisBlock Base module, it can already expand the capabilities of the system for real-world applications.
Note: For the examples of use cases below, a WisBlock solution based on the WisBlock Core RAK4631 and WisBlock IO RAK5005-O  is used as part of the base module.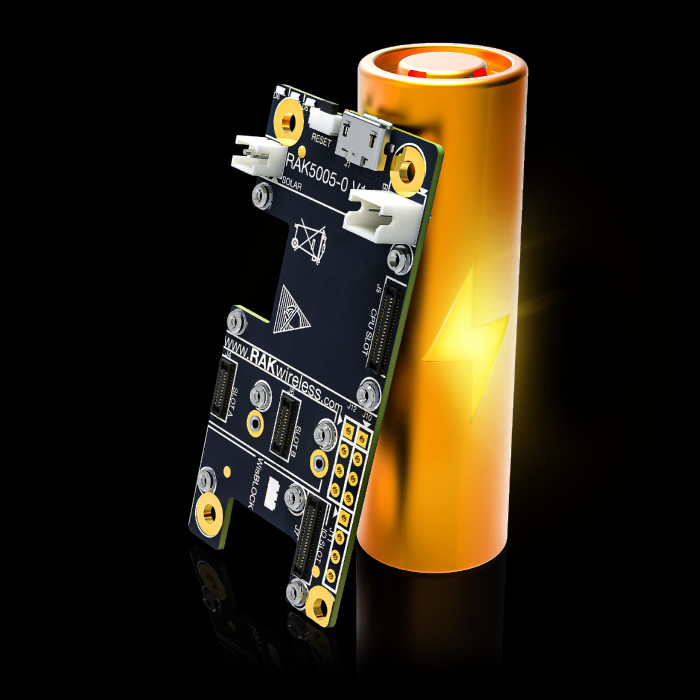 Location Tracker
With just the base module, you can already track and send location information over the LoRaWAN® network or over LTE. This flexibility can give you more options on how communications will work. With the possibility to switch off the LTE module, you can also conserve power and have the system work from battery power for a longer time.
Did You Know? The Smart City is For All: LPWAN Gateway Providers Can Now Help Monitor Elderly Activity
Environmental Sensing
Get information about air quality, temperature, and humidity by plugging in a BME680 environmental sensor module, RAK1906, to the base module. This sensor module can transmit this information from the environment over LTE even without any hardware development. With programs such as Arduino™ IDE, software libraries for the communication and the sensor are available -- making application writing a breeze.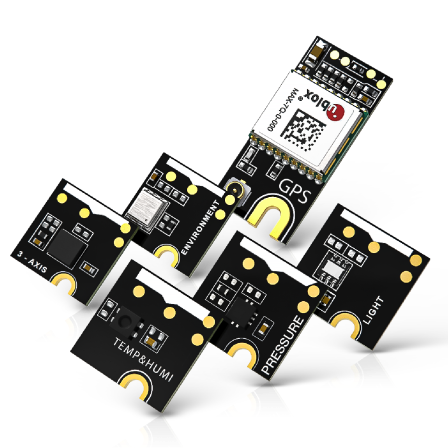 Agricultural Sensor
Keeping crops healthy and growing can be made easier by the WisBlock system. By providing real-time information on soil temperature, soil humidity, and quality, the product series ensures the proper use of watering systems for greater yield. With a RAK1920 WisBlock IO module, you can connect the sensors that are needed to the base module for the data relay to happen. To make the system independent from a power supply, the WisBlock system can also be connected to a solar panel, which makes it an ideal solution in the rural areas or fields.
Why were WisBlock modules made?
RAKwireless envisions a future where everything is connected and everyone can connect to each other freely and simply through IoT. The top IoT solutions provider understands the current problems that emerging and professional developers have when connecting to LoRaWAN or producing a hardware solution for everyday needs. The whole development process tends to be time-consuming, tedious, and unnecessarily repetitive (especially when repairs need to be executed in each step). RAKwireless believes that the creation of IoT solutions should not be that complex. It should be easy and exciting for all.
By releasing WisBlock, the tech leader is making a huge step in simplifying IoT and eliminating those barriers to development. WisBlock's modularity is a promise of fulfilling this smart future. WisBlock being open-source is also a hope of empowering more development in the community soon.
There's no time to wait!

IoT constantly adjusts with the pace of new developments. The new WisBlock system is a testament to the commitment RAKwireless has in making IoT accessible and simple. Get started and finish faster with the new WisBlock system!
Want to know more about the concept of WisBlock? Download the e-book here.