RAKwireless Releases Energy-Friendly RAK2287 Gateway Concentrator Module for LoRaWAN, SX1302 LoRa core (SPI or USB, GPS)
New concentrator module utilizes the latest Semtech SX1302 chip to reach high efficiency
RAKwireless Technology (RAK), an industry leader in IoT solutions, has today announced the launch of its new LoRaWAN concentrator module based on Semtech SX1302 to the market – the RAK2287. Weighing only 16 grams and measuring 51 x 30 mm, the mini-PCIe form factor module comes with the Semtech SX1302, a LoRa gateway chip offering improved efficiency, lower bill of materials (BoM) costs and substantially reduced power consumption.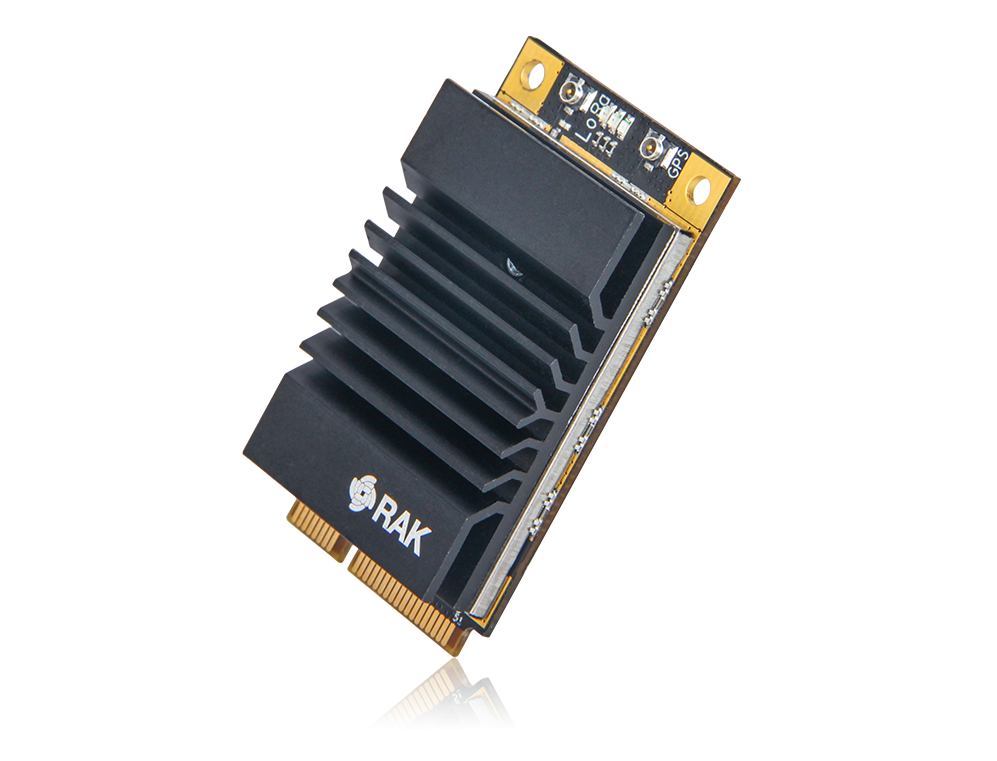 Similar to other RAK modules, RAK2287 can be used in any embedded platform with an available mini-PCIe slot equipped with Serial Peripheral Interface (SPI). However, this module goes beyond the current performance of the previous RAK2245 and RAK2247 – both of which use the older generation SX1301 LoRa chip.
The new RAK2287 is based on the Semtech reference design released in late 2019, pairing the SX1302 with newly launched SX1250 sub-GHz RF front-end chips. Using SX1302 as the LoRa concentrator significantly lowers the power use in idle and active modes compared to the legacy SX1301. As a result, RAK2287 is easier to embed in smaller, more rugged devices with fewer design concerns around heat dissipation. The small package and increased performance of the SX1302 eliminate design complexity and accelerate time-to-market for networking devices.
The RAK2287 SX1302 concentrator module from RAK easily adds to existing routers or other network equipment with LoRaWAN gateway capabilities. Also included in the module is a u-blox ZOE-M8Q GPS chip that allows users to utilize its Global Navigation Satellite System (GNSS) functionality, in addition to the LoRaWAN functionality.
Key Features
Designed with space efficiency and compatibility in mind (mPCIe form factor)
Built around the newly released SX1302 baseband processor
Pinout compatible with 3G/LTE cards of mPCIe type (3.3V power domain)
Tx power up to 27dBm, Rx sensitivity down to -139dBm@SF12, BW 125 kHz
LoRaWAN® 1.0.2 compatible
LoRa® band coverage (RU864, IN865, EU868, US915, AU915, KR920, AS923)
Built-in ZOE-M8Q GPS module
"We are very proud to launch the next generation of LoRa concentrator modules in mPCIe form with better power consumption and on-board GPS," stated Ken Yu, CEO of Shenzhen RAKwireless Technology (RAK). "Features such as LBT, geolocation, USB or SPI interface, and full compatibility with RAK2247 await our users. The optimized power consumption of the SX1302 will bring developers opportunities to build energy-friendly or even battery-powered LoRaWAN base stations."
As more devices add up to the IoT portfolio, integrating each is becoming crucial to further the field's development. Hence, this release of RAK2287 from RAK facilitates breakthroughs from projects created by integrators and members of the IoT community.
For more information on RAK2287, you may visit this website.
To buy click here https://store.rakwireless.com/products/wislink-concentrator-module-sx1302-rak2287-lorawan
Contact Information
RAKwireless Technology Limited
Ken Yu, CEO of RAKwireless Technology Co., Ltd. (RAK)
Email address:

[email protected]


Telephone numbers: 0755-86108311, 0755-26506594