RAKwireless Commercial Gateways use cases.
Our Commercial Gateway line is the best we can offer in the field of LPWAN Base stations. We are proud of its enduring design and great set of features and it seems that our customers find it to be a product with a very high price to value ratio as it is one of the highest selling products in the whole RAKwireless product line!
RAKwireless Commercial Gateways comes with quite a few features and a lot more, that you can add yourself, making them fully customizable according to your needs and ideas.
In this article, we will talk about some of them and will show you a few ways you can use our Gateways to build your network and make possible a variety of projects. We will not go deep in explaining what is a Gateway and the basics of the technology. It will be more of a practical article on how to set up things for a specific case. Gateways are not novel and there is already plenty of information about their general building blocks, principles of operation, and their role in an LPWAN.
All RAKwireless Commercial Gateway can perform the mandatory functionalities of a Gateway utilizing the LoRaWAN® stack (have a basic packet forwarder). They include all the basic knick-knackery that is required for them to do their work. However, this is not all and there are a lot of additional features that make RAKwireless Gateways even more compelling. They are ideal for large scale LPWAN deployment where cost is essential. This does not come at the cost of product quality. With a wide range of customization options allowing for flexibility when deploying a solution, industrial-grade components, and high class of ingress protection, RAKwireless Gateways adhere to a high standard of reliability.
Read: Which Gateways for LoRaWAN® technology suits you best?
Our Gateways provides for a solid out of the box experience where quick deployment is required. Additionally, since their software and User Interface sit on top of OpenWRT, they are perfect for the development of custom applications (via the open SDK).

In Figure 1, the simplest and most popular scenario is presented. Using the UDP Packet Forwarder you can connect your Gateway to The Things Network (TTN) and from there you can manage everything.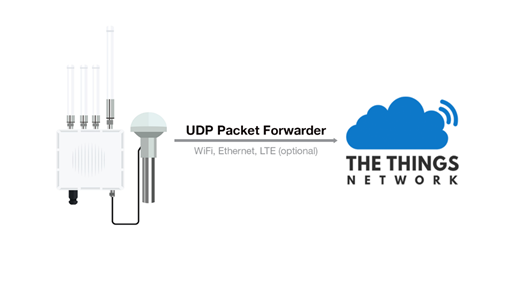 An additional option available in RAKwireless Commercial Gateways is using the Built-in MQTT Bridge. Simply point it to an MQTT Broker and your data will be published. You can use your own hardware (as simple as a Raspberry Pi) to host the Broker or the Cloud service of your preference, we have even provided a guide for you with Amazon Web Services (AWS).
Read The Mighty MQTT! What You Should Know About It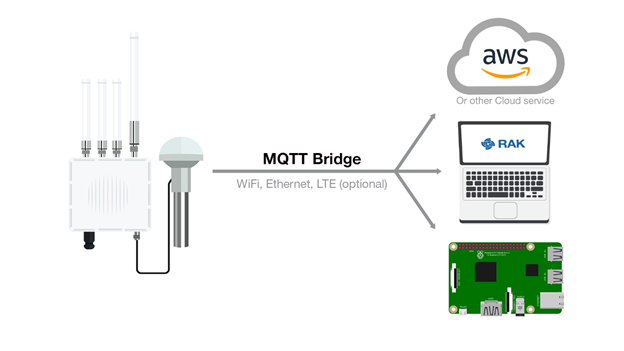 A third option and perhaps the most interesting one is to use the Built-in Network Server. It is quite useful and gives you a freedom that no other platform is capable of providing. These are discussed in detail in another article (Why is the RAKwireless® Built-in Network Server better? 5 things that make it the smarter choice) of ours. For example, looking at Figure 3, you can see how complicated of a Network you can create. The best feature here is that you need only one Gateway with an enabled Built-in Server and you can use it as a center point to linking additional Gateways and nodes. You can have multiple small systems with their Nodes and Gateways running as well as several other Nodes and have the one Gateway collect it all! Not just collect your data but, store it and decode it so you have the actual payload, which you can forward to your analytics engine for processing. Using MQTT and HTML you can manipulate the data any way you like! You can upload it to a cloud server and manage it, or visualize it on your website and use it that way. This is by far the easiest of deployment and management strategy for an LPWAN Network!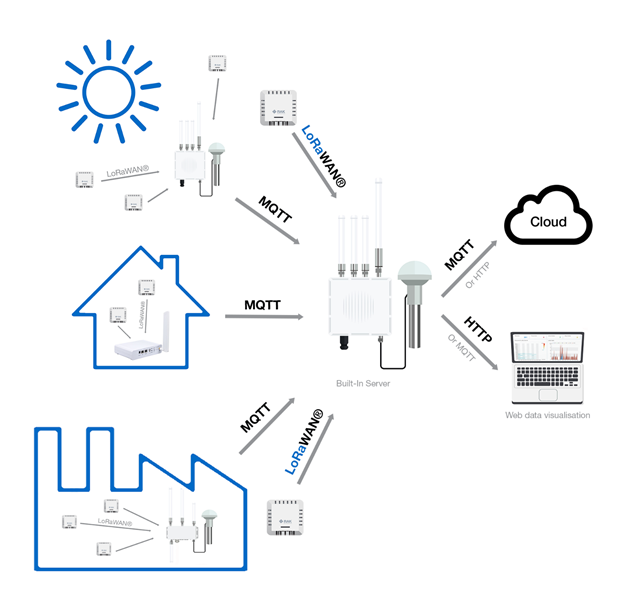 The RAKwireless Commercial Gateway is a universal solution for your network problems, indoor or outdoor. The use cases presented in this article are by far not all possible deployment scenarios. Let your imagination run and build your IoT dreams. We have the tools to help you!