Connectivity is the one thing that binds us together. It helps us to understand better and even control the environment around us. For this to work, the component is reliable and accurate data. That means we need devices capable of providing that data, versatile and with complex components, and yet easy to use and deploy. This season, RAKwireless is presenting such a device – RAK2560 Sensor Hub.
Building your device is hard even if you are a professional. All the options in the market, all the code, and libraries that come with each piece of hardware can be overwhelming. Not only that, navigating in this vastness will inevitably lead to delays in bringing your product to production. It is hard for the user, but big-name solution providers struggle with that as well. They need something reliable that can be deployed quickly, preferably with no need to invest in R&D or additional teams. Time to market is essential and Sensor Hub is the answer to cutting it down.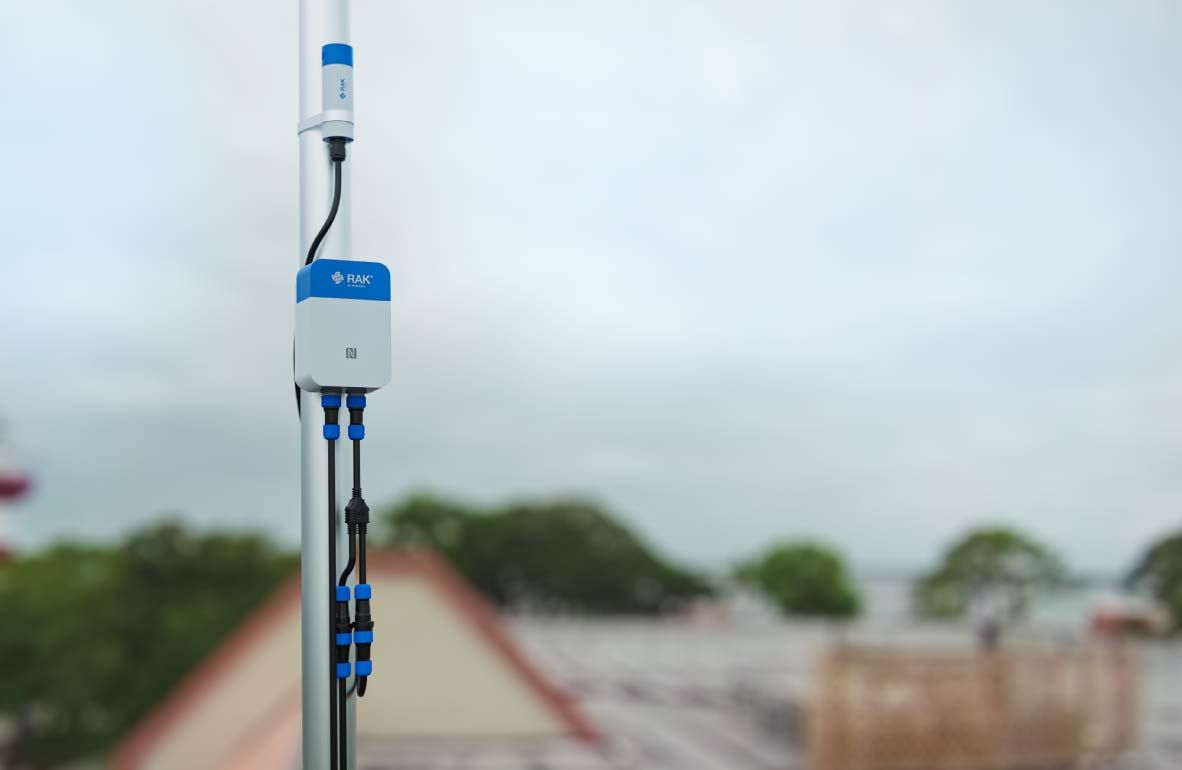 This is a modular sensor ecosystem with pluggable, interchangeable intelligent probes. A whole platform that provides IoT solutions for various applications.
We are introducing a Plug and Play device that allows you to deploy field probes in a quick and cost-efficient way. The Sensor Hub ecosystem is quite versatile, due to its flexibility, it can easily fit any project. With three simple steps, you can be ready for action.
PICK the sensors you will need. We offer a wide variety of sensors and combinations, ready for use. WisBlock sensors for 3-axis acceleration, gas, humidity, temperature, and barometer pressure in a variety of combinations are preselected and preconfigured for your convenience, all nestled in a compact Sensor Probe. You have everything you need for complete environmental monitoring. Not only that, you have the option to add third-party sensors to your setup via the Probe IO interface.
CONNECT the pieces. You have the option to connect multiple probes to the same setup via the Probe Splitters and position them optimally using the Extension Cables. They work with different power options and can even accommodate whole third-party devices as well.
CONFIGURE your system. It features auto-identification of sensors, so you won't waste time trying to configure it from scratch. All our Sensor Probes come pre-configuration and are auto-detected by the WisToolBox mobile app. We also offer a library of example codes for third-party sensors that can be added to the setup with the help of RUI3.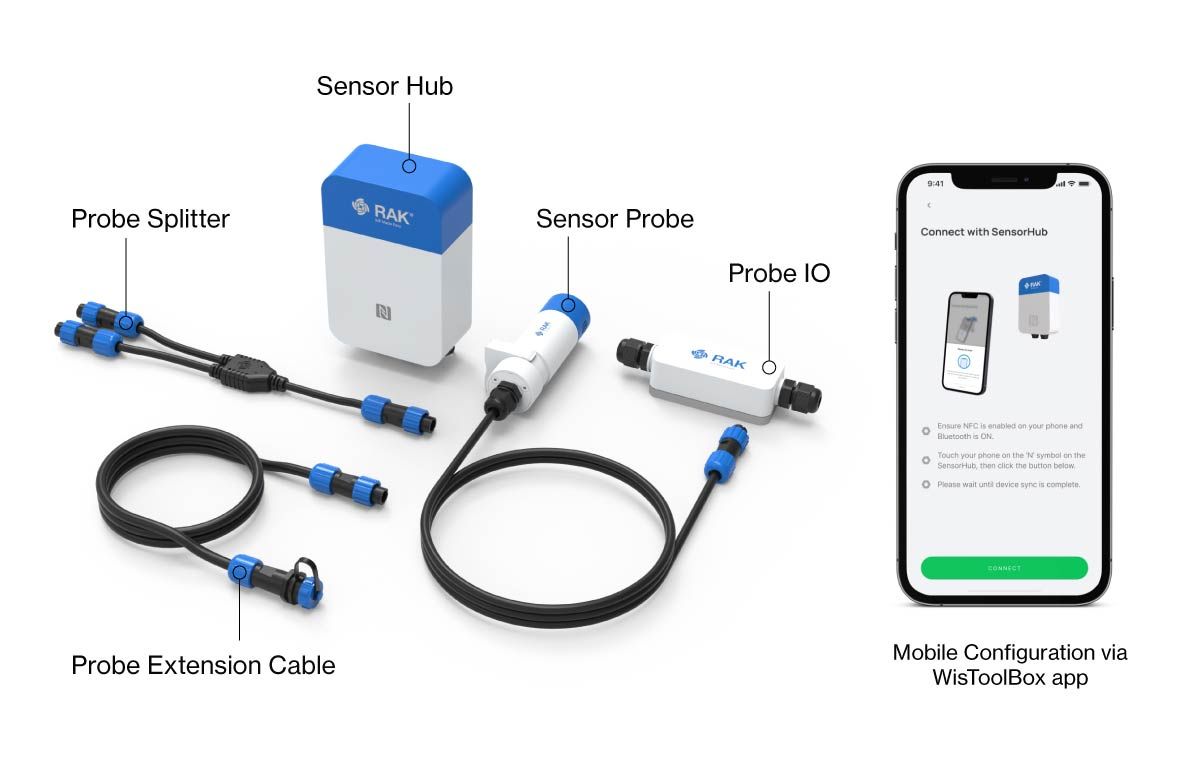 RAK's Sensor Hub is small but powerful. The IP66-rated enclosure is packed with a lot of potential and functionality.
Small form factor - Measuring only 8x12x4 cm the Sensor Hub is incredibly compact for the amount of functionality it offers. Its design is minimalistic and clean. It allows the device to fit in tiny spaces and be placed in difficult-to-mount locations.
Ready to use, easy to configure - This all-in-one node comes as a Plug & Play device, simply connect the desired sensors, connect to it via BT or NFC and set it up via the app - WisToolBox mobile.
LoRaWAN® for long range and battery efficiency - Miles of range in open areas, covering fields, factories, and whole city neighborhoods without impacting battery life.
Autodetection of the RAK probes connected - No need to modify anything on the hardware or software side, simply connect the probes and they will be recognized by the node automatically and be ready to use.
Ability to add 3rd party probes via RUI3 - Easily add support for non-standard probes via our RAK Unified Interface.
Battery and solar power options - Take your solution off-grid and make it power-independent for use cases where grid connectivity is unavailable.
Users with little to no knowledge, System integrators, Developers, and Proof of concept builders, this product is for everyone.
The Sensor Hub's modular design allows it to be tailored for many different use cases whether they are in different fields (Smart farms, Industrial automation, etc.) or simply applications within the same field (different services for a Smart city).

Smart farming
One of the best uses for the Sensor Hub is to use it as an all-in-one agricultural node. Its modularity will allow it to monitor a wide range of parameters that are essential for keeping crops and land in check, making sure your production is at an optimal level.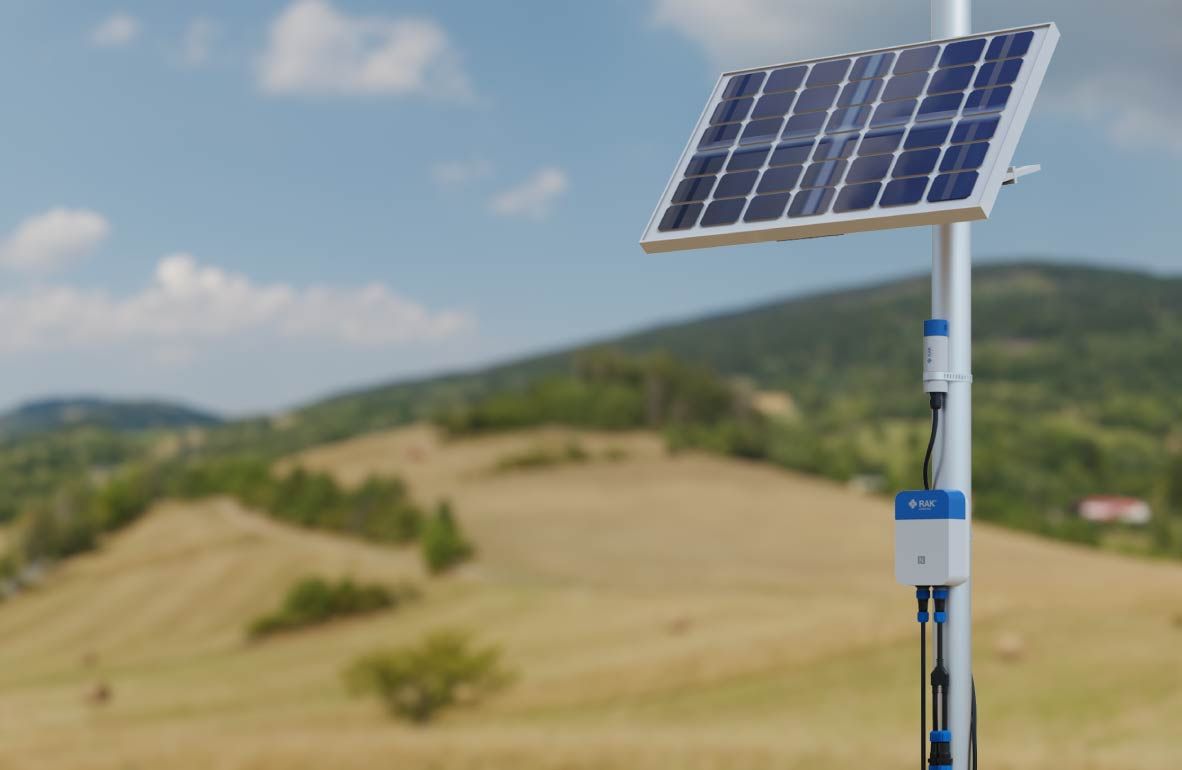 Smart city
Sensor Hub is ideal for urban deployment as well. An all-purpose environmental node can find many applications. The stylish design fits equally well in industrial settings and office buildings alike. City parks and open spaces can also benefit from the wide variety of sensor options.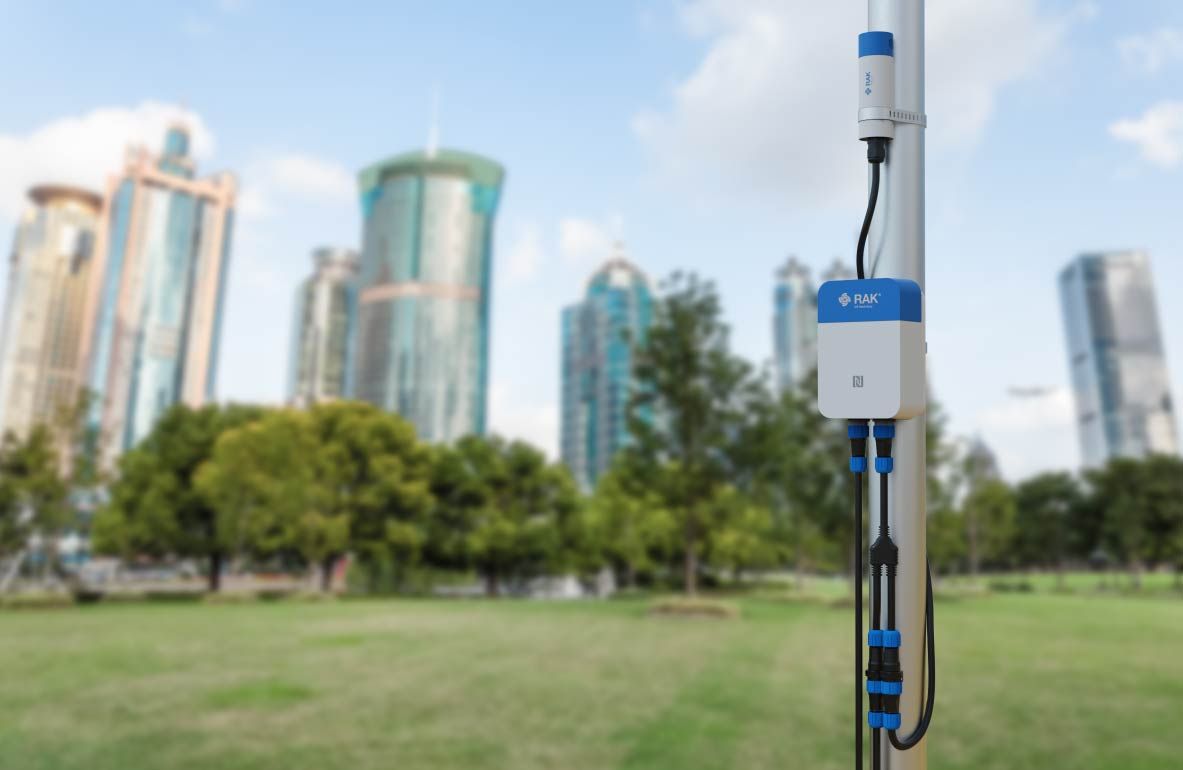 Connect all the sensors you need in one node and receive all the data you need. Connect with your environment and know the world around you. Be proactive, Sensor Hub will do the work.