Planning your next adventure is easy in a connected world – the connected world that we, at RAK, envision! Safety and knowing your place in the world are key for that vision. And what's easier than to just track it? Your place, I mean. And not only yours but your friends', pets', and belongings'. Tracking made easy with RAK2171 WisNode TrackIt!
RAKwireless is happy to present the newest member of our end-device family.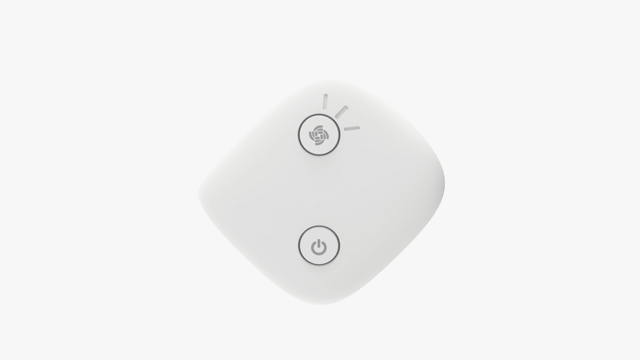 RAK WisNode TrackIt is a pocket-sized LoRaWAN GPS tracker that can be used for tracking people, assets, animals, and everything else really. It is equipped with a rechargeable, long-lasting battery and a nice rounded design that just tempts you to play with it.
Another tracker device in the world may not seem that remarkable, but RAK2171 stands out with the piece of software that comes with it. We developed the RAK TrackIt App available for Android and iOS. With it, you can manage and configure your tracker as well as see its position on the included map, create geofences, and share the tracker's info and location with other users who use the app.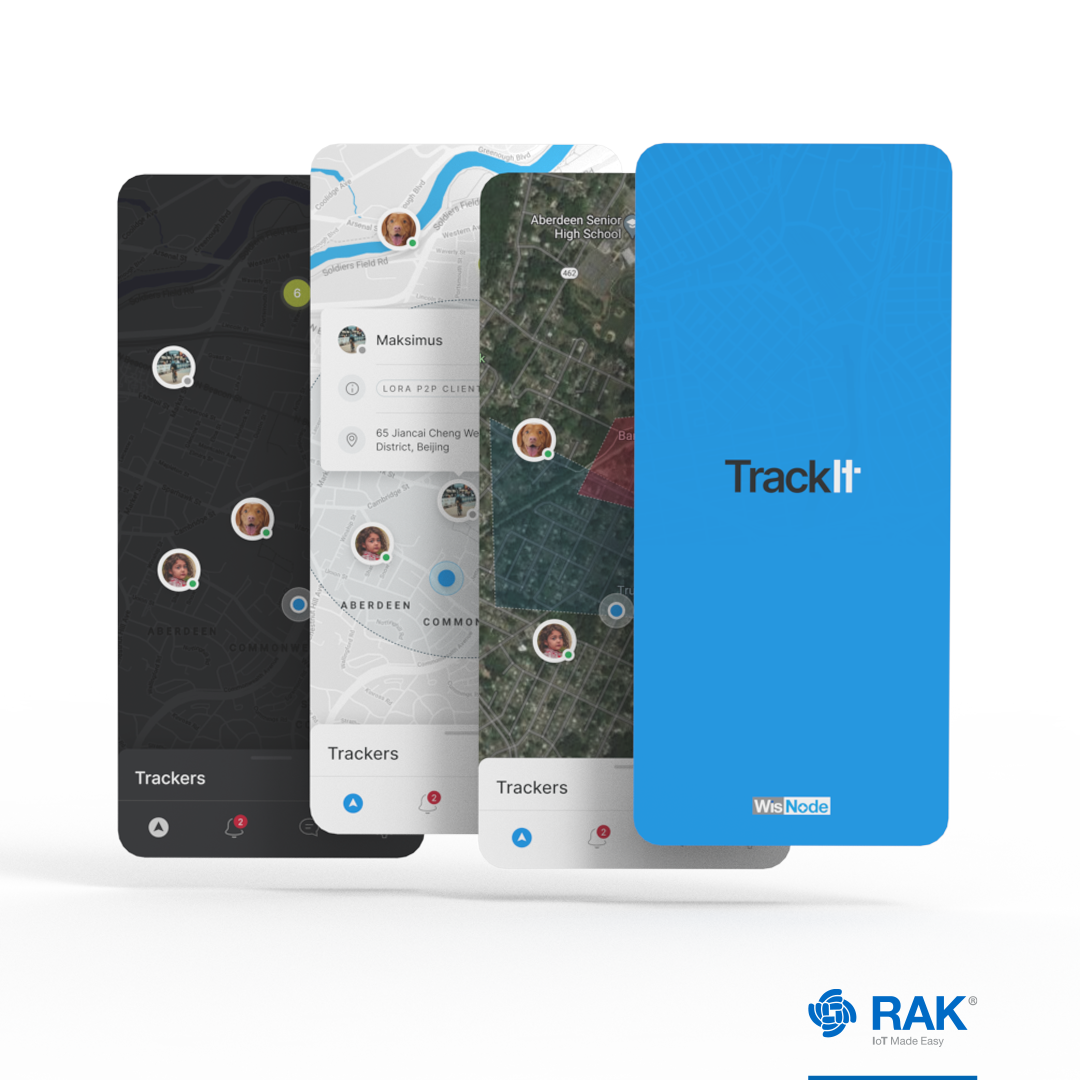 This little square can work in different modes and that makes it the versatile device that the ordinary human needs and can use every day. Apply it in different settings and environments, in the city or out in nature, and don't worry about your location. TrackIt's got you covered!
LoRaWAN® mode – As the name suggests, for the device to work in this mode, you need to have LoRaWAN coverage. Not every LoRaWAN gateway works for this purpose, however. For the tracker to work in LoRaWAN mode, it needs to be in a RAK WisGate Edge gateway's coverage field with direct access to fully utilize the features. The gateway needs to be running the Built-in Network Server and the rest is easy with the RAK TrackIt App and its configuring options!
Peer-to-Peer (P2P) mode – First of all, for the tracker to work in P2P mode, you need at least two of them. One of the trackers takes the position of a master and the others become slaves. Just to be clear here, this is strictly technological terminology. So, the master device should always be connected to your smartphone and the App via Bluetooth and it becomes a sort of a gateway. Its job is to receive the position of the other trackers paired. Other trackers are slaves — they transmit their location to the master tracker. It must be mentioned that for this mode to work properly, a clear line of sight (LoS) is needed. But we have thought about that as well and implemented the Relay mode. It is a part of the P2P mode and allows for a second tracker to become a master as well. In a position where the main master doesn't see all its slaves, but the slaves all see one of them, that one can become a transmitter to the master for all of them. Neat, right?
Other LoRaWAN Network Server (LNS) mode – This work mode will allow the user to connect the tracker to any LoRa Network Server and with any LoRaWAN gateway. Here, the mobile app will be your best friend as it will be used as a configuration tool. Thru it, you will be able to get the tracker's DevEUI and keys, set the send period, and so on. There will be no data displayed on the application map. Instead, we will provide a payload decoder, so you can decide how to manage the data. Helium, TTN, or other, the choice will be yours.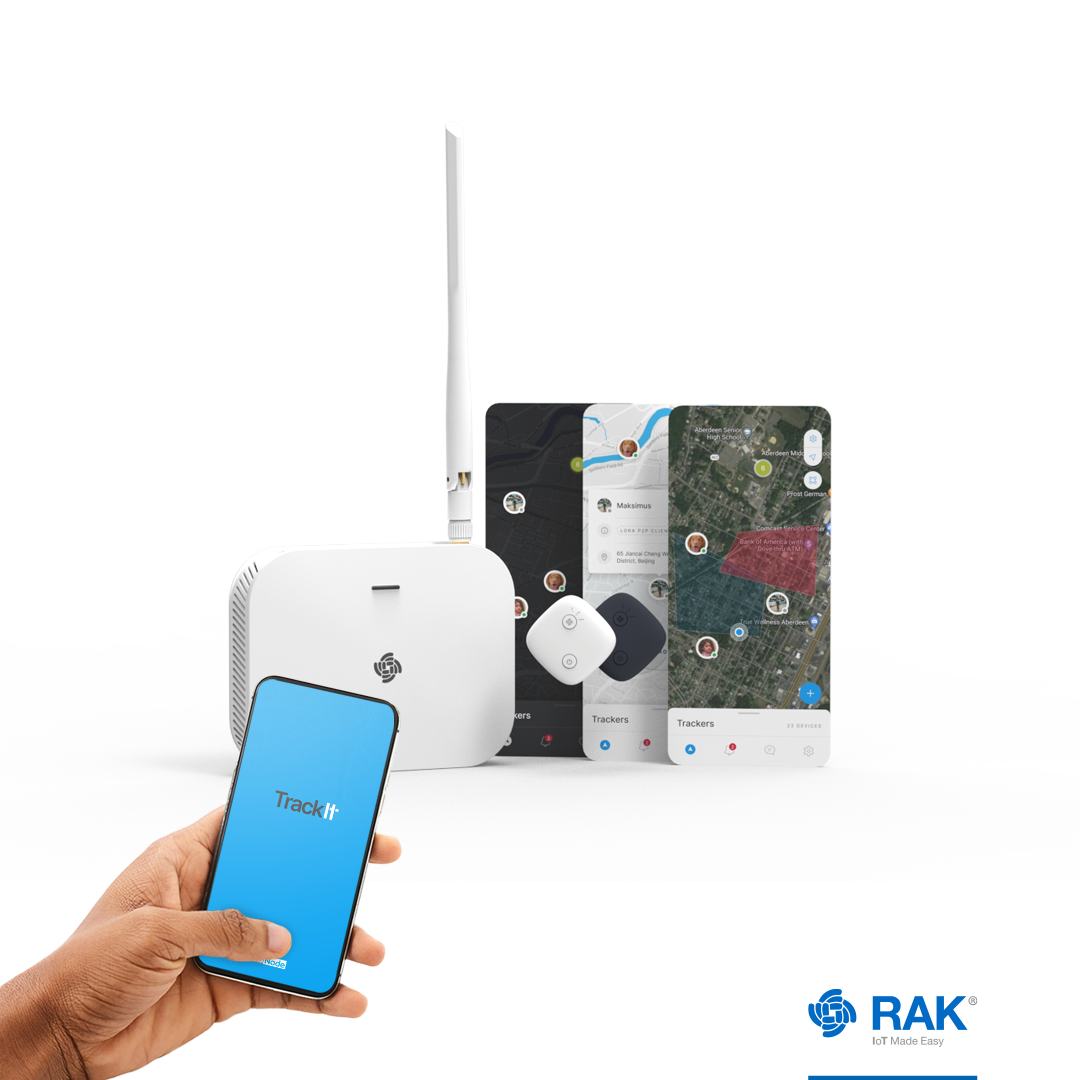 That is enough boring technical stuff. The thing I know that you want to know is, "how is it used"? I believe that your creative minds can come up with hundreds of use cases; each more interesting than the next, but let me mention just some of them here:
Imagine that the pandemic is over and music festivals are again a thing! You and your friends are up for the experience and go. The event is big! There is a tent camp, several stages and a lot of people. Sounds like a dream, huh? Someone goes buy the beer, another checks the other stages, and the group separates in the crowd. But everyone has a TrackIt in their pocket! Use the P2P mode of the tracker to make sure the group members can always find each other. And don't forget to toss one tracker in the tent just in case you can't find it later!
If crowds are not your thing, then maybe hiking with the family is! The mountains are beautiful, peaceful, and famously lacking LoRaWAN coverage. But you don't need it for P2P, now do you? Make sure no one goes chasing butterflies and gets lost, not even the dog. With the SOS function, even potential accidents are not so scary anymore. Go on an adventure and return safely! Oh, and do you remember where you parked the car?
No matter if you are a farmer with big cattle heard or just a really enthusiastic dog lover with several playful dogs that love to run, the WisNode TrackIt will always tell their whereabouts. Let them roam free and always know their location without you being with them. Create a geofence and get notifications if one or several trackers go out of the area. P2P and LoRaWAN modes are both useful here, depending on the setting of a WisGate nearby.
In a Smart City, where having LoRaWAN coverage is a norm, tracking assets with the LoRaWAN mode or even with Third-party LNS will be a breeze. Toss one RAK2171 into your luggage and never lose it again! Make sure the movers are delivering your possessions to your new home with a tracker or two somewhere in the boxes. Always find your vehicle in a huge parking lot. The possibilities are endless and you won't lose a thing.

It is easy to get lost, but now, it is even easier to find the important things wherever you go. This Autumn launch gives you the opportunity to just TrackIt and explore. Stay safe, stay on track!