Why Apply to Become a WisBlock Beta Tester?
The pandemic may have slowed our life down, but new experiences still abound especially in the Internet of Things (IoT). Unlike most industries that succumbed to the challenges of the global virus, IoT is striving to provide remote solutions that help uplift struggling nations. Most organizations worldwide have already implemented remote asset management, environmental monitoring, and contact tracing to continue operations. As more of these solutions are needed day by day, tech leaders need more people to ensure their quality before these versions reach the public. One of those leaders is RAKwireless.
Committed to introducing modular IoT devices in the market, RAKwireless is launching a new modular product line named WisBlock, supporting the most popular wireless low power, wide area network (LPWAN) protocols including LoRaWAN®. It consists of unique modules - WisBase, WisCore, WisIO, and WisSensor – that are attached using plug-in carriers. By reusing the modules for the succeeding steps of product development, WisBlock makes the implementation of LPWAN faster and easier into your IoT ideas. Not to mention, the software and hardware are open-source! Developers can get access to extensive libraries that support their target application. Arduino users can use Arduino™ IDE. Platform IO fans are also catered for in supporting their complex scenarios.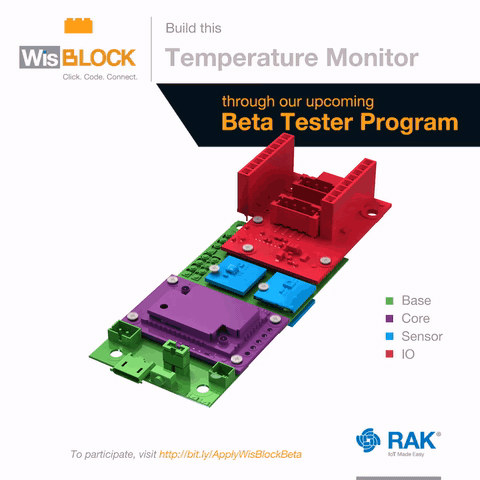 If you are tech-savvy and the type to look for activities that will excite your life, then try being a part of product evaluation like Beta Testing.
Beta Testing is one of the evaluations that tech companies facilitate to add value to the product. They empower intended end-users to validate the product for reliability, usability, functionality, and compatibility. Users can maximize the potential of the product by applying the product to many use-case projects and provide feedback in each step. These comments and recommendations are then used by the developers to improve the product before its release.
Interested? Listed here below are five reasons to convince you in joining this exclusive opportunity.
You experience new technologies before anyone else.
In the tech community, everyone wants to get ahead hence, the high influx of innovations being introduced each day. Therefore, if you're given the chance to expose yourself to a technology that is not publicly released yet, you can already apply similar approaches to your developing project.
You contribute to the good of the IoT community.
While you provide suggestions to the improvement of the product, you prevent the other members of the IoT community from experiencing issues with WisBlock. You already can identify potential problems of WisBlock that can impede the development of IoT projects, hence delaying the deployment as well. By eliminating these hindrances before its launch, you are speeding up the discovery of future breakthroughs and doing the IoT community a major good.
You network with people who share the same interests.
IoT is a vast network of connected things, so, naturally, you don't get to be interested or well-verse in all of its fields. By joining an exclusive group of product testers, you can closely know people who have varying backgrounds in the areas with which you think you are lacking experiences. More importantly, you can make friends with whom you can still connect even after the program. Who knows in the future you can develop collaboration and launch a project together?
You get freebies from the product's tech company.
Imagine this: if you get accepted in the program, you will have a pre-released WisBlock on your table along with accessories that will help you explore it. The shipping is also provided to you. All you have to do is to participate in the execution of the testing program and provide your insights to the developers. Does that sound good to you?
You enjoy!
Most importantly, the main reason why we go for novel experiences anyway is that we want to have fun. You can delight in activities that blaze your passion for technology by just being part of this testing program. You get to play with creative tools and formulate your solution while also helping the tech company reach its goals. You can share your passion with people and create a big impact on the entirety of the IoT community.
While the pandemic is still ongoing and preventing us from experiencing the outside world, activities are still available for us to participate in especially that some industries like IoT are still trailblazing. One of those exciting opportunities is beta testing. RAKwireless, like other tech companies out there, needs skilled people to provide suggestions in improving WisBlock, a modular open-source IoT solution that streamlines the implementation of LPWAN in any application.
Want to know more about the concept of WisBlock? Download the e-book here.
If you are a maker, developer, system integrator, tech enthusiast, student, or teacher who wants to grab this opportunity of a lifetime, you may apply through this link until September 16th: http://bit.ly/ApplyWisBlockBeta.