How many situations have you encountered configuring an IoT device via serial AT commands in which you missed the last character before hitting enter? Or, on the side, how often have you had to refer to the device datasheet before sending the command just because you forgot the command? What about deploying several devices that have a few parameter differences and having to compile a new firmware for each one? Addressing all of these and some other pain points when developing Internet of Things solutions, RAKwireless's ecosystem of products keeps expanding to drive the "IoT Made Easy" journey. Therefore, we need your feedback to ensure the tools developed include all the features needed when creating new and innovative products.
😉
Make sure to read the whole article to see what we have prepared for you!
RAKwireless has been positioned in the market for various hardware products for developing IoT solutions under LPWAN technologies, especially LoRa/LoRaWAN, either at the device development level or infrastructure deployment. Nevertheless, as a company offering a large hardware ecosystem, developing software tools was essential to bring the development of products with this various hardware to the next level, guaranteeing efficiency and, consequently, reducing the development time to deploy the devices on the actual field – WisGateOS, the operating system of our gateways, and WisDM to simplify fleet management are two examples of some of those software tools.
No matter your previous experience developing with the RAK ecosystem, the end devices software tools allow efficient low-level solution development, ensuring connectivity and battery performance, deployment management, and remote updates during the development and deployment stages.
WisToolBox: Streamlines configurations of RAK edge devices
A tool built upon the needs of our users, as well as the global IoT developer community. WisToolBox is a free application reducing the barriers when developing and managing IoT devices diligently and independently of any previous experience level, as no coding is required when configuring, just baseline knowledge of LoRaWAN and LoRa P2P device parameters, combined with a clear understanding of its purpose (sensor and actuator management) you can implement efficient and scalable IoT products quickly.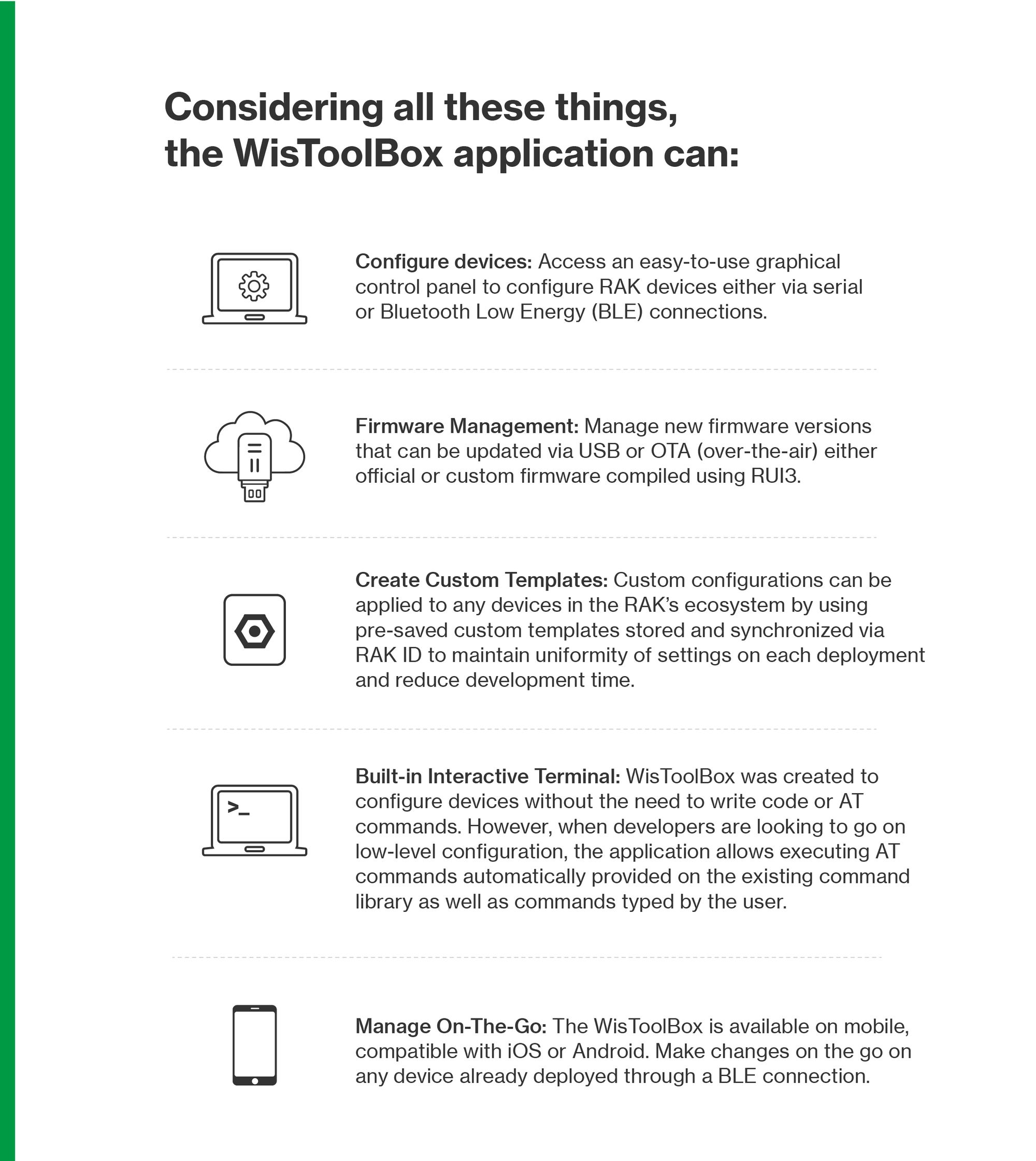 You can access all the above features independently, whether through a computer operating system (macOS, Windows, or Linux) or smartphone OS (iOS or Android), WisToolBox enables an optimal user experience for every configuration. RAK is revolutionizing the way efficient IoT solutions are being developed by using the RAKwireless ecosystem of RUI3-compliant end-device products.
Device deployment across the RAK ecosystem
A fleet of devices under the RAKwireless ecosystem is ideal either to validate quick proof-of-concept or to deploy sensors on a large scale, whether they are custom devices or ready-made modular industrial prototypes.
When implementing IoT solutions, it is essential to think about agile development since, regardless of the development phase you are in, it is possible to integrate various processing modules, connectivity, sensor modules, and actuators which reduces development and implementation time and, in return, reduces hardware investment costs. Hence, positioning WisBlock, as the ideal hardware development platform for creating large industrial prototypes.
Now, what about the software? Over the last year, many companies have had to invest a lot of engineering hours in migrating their solutions due to the shortage of chips used in their products. These components were part of another family of MCUs, which caused them to have to start again from scratch.
Considering this need and the headaches many entrepreneurs and large companies experience when implementing LoRa/LoRaWAN solutions, such as properly managing energy consumption to achieve long lasting solutions and also on the administration of keys, connection, and reconnection processes on the LoRaWAN network in an efficient way.  Some new game-changing tools that make life easier when developing any Internet of Things product have arrived. Your answer to this is RUI3 + WisToolBox.
RUI3 (RAKwireless Unified Interface) is designed to help IoT developers make their IoT products faster. It supports standard AT commands and Binary Mode.
The Binary mode is an improved version of the AT command with its efficient byte-array-based protocol and checksum implementation. In addition, RUI3 allows you to create custom firmware using RUI3 APIs that are compatible with popular IDEs like Arduino and Visual Studio. With custom firmware, you will not need additional external host microcontroller or microprocessor, which saves cost, circuit board space, and current consumption — making the firmware fully compatible among the different modules provided by RAK (RAK4630, RAK4631-R, RAK3172, RAK3172-SiP) to handle migrations in no time when needed.
As described above, WisToolBox is a complementary software tool for RUI3-based RAK modules which can be used either on a desktop or as a mobile app, allowing you to configure devices easily, handle firmware management, create custom configurations and groups of settings, access to built-in interactive terminal, and manage devices on-the-go.
The combination of these two tools is ideal for managing and deploying large-scale end devices for energy-efficient solutions and quick approach in any stage of development.
WisToolBox Beta Testing
Now that you are already in context with the tool. We are thrilled to announce the first public beta testing of a new RAKwireless software tool over the next few weeks. We are looking for a group of curious people passionate about developing IoT solutions to help us test WisToolBox, intending to help identify the best way to overcome issues and enhance the application.
Be the first to try the WisToolBox and earn rewards for giving us your feedback. Whoever you are, despite your previous experience working with the RAK ecosystem, you can still be part of this unique program even if you don't have a RAK product. We will give away kits to those who submit the best project proposals for participation, allowing you to get your hands on the product and share your reviews.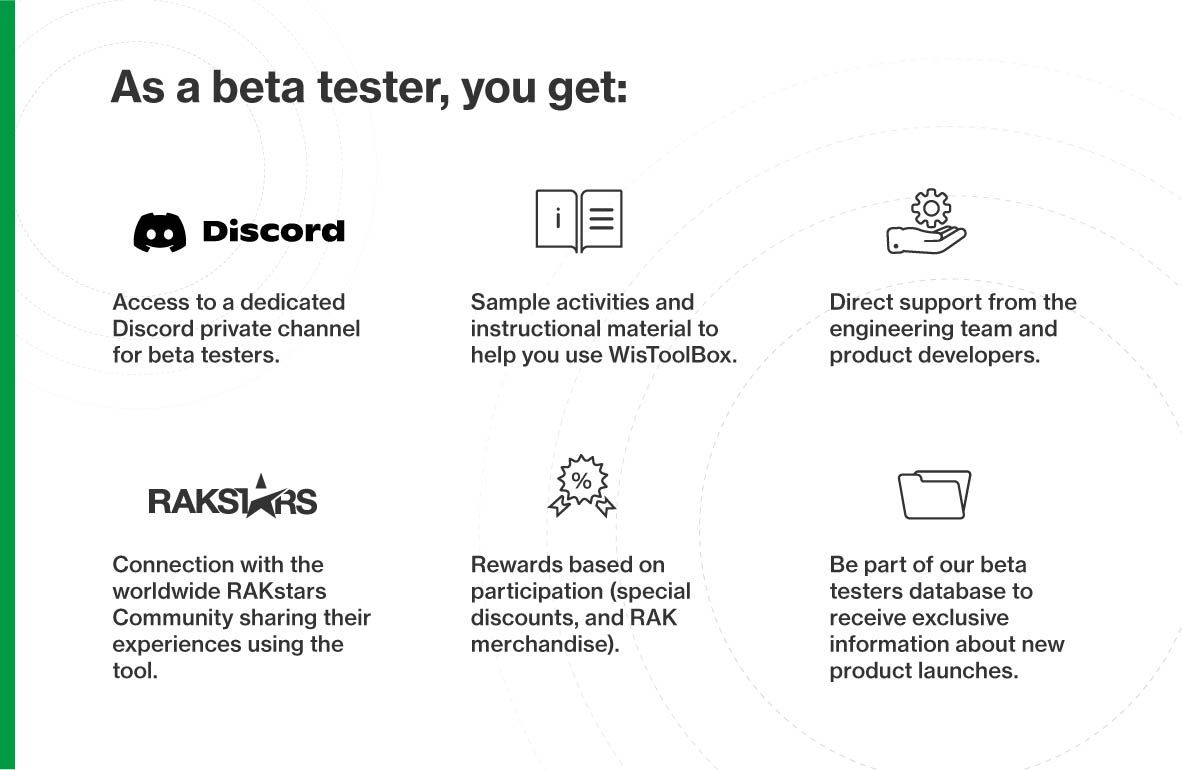 What do we expect from our Beta Testers:
Join our Discord Server if you've not already done so.
Download and test the WisToolBox App either on desktop and mobile.
Participate in the activities to be carried out to earn special rewards.
Support other beta testers in case you already know the answers.
Provide feedback and any bug reports in the English language.
To centralize all the suggestions, we will ask beta testers to submit their feedback and report all bugs via a web form. In addition, you can upload screenshots/screen capture videos to highlight what you've found and help us find and fix anything before the public launch of WisToolBox.
Not only will you be one of the first people to ever play with WisToolBox, but you can also get rewarded for tinkering with it while giving feedback at the same time.
Become a Beta Tester
Want to be a tester? Please complete this application form.
📌
Important note: Remember that by applying, you will be participating in a WisBlock kit giveaway to perform the testing necessary when using this new tool. Only the best project proposals submitted will be eligible as winners of the kit and are automatically selected as beta testers.

Applications to participate will be open until September 7. Please note that to join in the WisBlock Kit giveaway, you must submit your proposal before August 31.
Once approved, after we close submissions and the beta testing period starts, you will receive an email with all the information and will be added to a private channel on our Discord server where you can chat directly with our product experts and other Beta Testers, and get all the program updates.
Interested? Kindly fill out the form above. We can't wait to hear from you!
Good luck, and happy hacking!